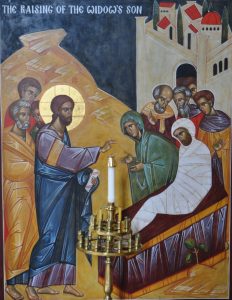 On an occasion when Jesus was in Capernaum, the city of the Apostle Peter's family, the leaders of the local synagogue appealed to him on behalf of a certain Roman Centurion, whose servant was ill. They made their case for Jesus to intervene on the basis that the Centurion was worthy because "he loves our nation and built our synagogue." Nothing new in that. Quid pro quo.
            In contrast to the expectations of the elders of the synagogue, the Centurion, an officer in the elite Roman Army, declared to Jesus that he considered himself unworthy to have him come under his roof and even to approach him personally. He so appreciated, understood and respected the faith of the people his nation had conquered, that he declared he would not presume to place Jesus in the position of being ritually defiled by entering the house of a gentile.
            As an officer used to being in command of military forces, and of many servants, he expected his orders to be carried out by those in obedience. From a distance, he is assured, Jesus can heal his servant with just a word. The Lord does exactly that and marvels, "I tell you, not even in Israel have I found such faith." [2]
            Afterwards, Jesus and His disciples travel to the neighboring village of Nain. Just outside the city gate, they encounter a funeral procession for a young man. The Apostle Luke is the only Gospel account that includes this memory of Jesus' response to a widow and her dead son being carried on a bier to be buried. The Apostle describes him as "the only begotten son of his mother" [1].
            Jesus himself would soon die outside the city gates of Jerusalem and be carried to His tomb by a few of His disciples, accompanied by His widowed mother grieving for Him, also "the only begotten son of his mother."
            What is remarkable to me in this encounter is what tenderness and love are evident in Jesus's immediate response. The Centurion's humility was surely great and his faith remarkable, even in Jesus estimation. But here, there is no case made for the worthiness of the widow or for her son; no appeal whatsoever, except for the compassion arising in Jesus who saw Himself in the dead man and he saw His beloved mother in the grieving widow. The word in the Greek translated as "compassion" carries the intensity of experiencing a love from the 'depth of one's bowels.'
            On the surface, the account is simple. Jesus touches the bier and those carrying it stop. Far more ritually defiling than entering the house of a humble Gentile who has built a synagogue might have been, Jesus astonished them by touching death. It is what compassion calls Him to. He not only touches death but has been born for the purpose of giving Himself up wholly to death. He changes the cross of shame to a cross of glory; and death from an end to a beginning. He makes clean whatever he touches.
            Once again, simply with a word, as with the Centurion's servant, He says "Young man, I say to you arise." [3] And then, He gives him to his mother not unlike what he will do with His beloved Apostle John at the foot of the cross as He is dying. He looks down at His mother and says "Woman behold your son" and then to John, "Behold your mother." [4]. There is such love in that action! In the midst of His agony, He is attentive to His human mother's worldly grief and needs for the rest of her life on earth, while at the same time He knows she will soon be with Him in paradise. Consubstantiality again.  
            Jesus' actions are a testimony to how God came to love humanity even more, if that were possible, by becoming human and learning what it means to be helpless and depend on His mother to love and protect Him and teach Him until He became of age.
            This is perhaps what is most remarkable about this memory of the church. The compassion of God for humanity is rooted in the consubstantiality of Christ, of God having learned in His own flesh, the tenderness, love and protection of humanity when He was most vulnerable. He sees and feels himself in us in order that we may discover ourselves in Him.
            As for the others who were present, standing outside the depths of this love, St. Luke tells us that "terror seized them." Perhaps there is nothing more terrifying than the love of God revealed in Jesus Christ because it is so much greater than our own. It risks so much more; offers everything. It has nothing to do with quid pro quo.
            The on-lookers dealt with their terror by finding explanations that tamed the unknown and made it part of something that had already happened before, albeit something marvelous. Consequently, their explanations were inadequate. There had been prophets who raised the dead before. Maybe that is what they had seen. "God has visited His people" [5] in ways their tradition had already encountered. No one comprehended the magnitude or possibility that they were witnessing the love of God Who had become flesh and was dwelling among us [6] on earth.
            How often do we respond to the incomprehensible with explanations of what we have already encountered? How often are we more interested in remaining in control than in risking the vulnerability of loving communion? On Mount Tabor, in the midst of the Transfiguration of Jesus, Peter declares, "It is good that we are here" and proposes that they build more tabernacles to house the glory they are witnessing." It is what he knew to do based on the past. A voice from Heaven suggests a different action: "This is my Son. Listen to Him!" [7]
            Our greatest blindness is our failure to realize the depth of God's mercy and love "which are greater than life itself" [8] is given to us every moment of our lives, just as to the widow and her only begotten son. We don't need to make a "justification" for God to help us. He feels love for us from the depth of His bowels at every moment, because He has assumed the human condition in all its exigencies. His love is a gift, closer to us than we are to ourselves.
            Our mind fears what is not already known and predictable. We resist change, while our hearts hunger and thirst for love that is pure gift, resisting any form of control, known only through communion.
            We hunger and thirst to be re-membered by God in love, like the deer thirsts for flowing streams. [9] St. Gregory of Nyssa says, "Who searches for God constantly has found Him." Conversely, God searches for Man constantly. In becoming human, God who is without beginning, found humanity by accepting total helplessness unto birth, death and the depths of hell, all out of love for humankind.
            As a result, Jesus sees in humanity—His true Image, the way we are called to be—and we cannot imagine how great a calling it is to be re-membered by Him and be called to arise after death in response to the divine Word. We shall be re-membered by Him and given to all those we love, sanctified by the Son of God whose humility and love lead him to dwell within us, even while we are helpless in death.
             Re-member me Lord when I can no longer call to You for help as you re-membered the young man and his mother.
[1] Lk. 7:12. μονογενὴς υἱὸς τῇ μητρὶ αὐτοῦ
[2] Lk. 7:9.
[3] Lk. 7:14.
[4] Jn. 19:26-27.
[5] Lk. 7:16.
[6] Jn. 1:14.
[7] Lk. 9:35.
[8] Psalm 63:3.
[9] Psalm 42:1.