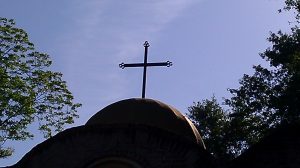 The Gospel reading the Holy Fathers have chosen for the Sunday before the Exaltation of the Holy Cross, which we will celebrate with the Divine Liturgy on Wednesday, is part of the dialogue between Jesus and the Pharisee Nicodemus, a member of the ruling body of the Sanhedrin whom we are told comes to Jesus "by night" as an ally and tells him, "We know you are a teacher come from God for no one could perform the signs you do if God was not with him." [Jn 3:2]
Jesus responds to Nicodemus presumption by inviting him to recognize his blindness to the things of God. "No one can see the Kingdom of God unless he is born again/from above." [Jn 3:3] Nicodemus does not appear to take offense but admits his confusion demonstrating that he truly cannot see what Jesus is talking about.
After he asks in surprise, "How can a man be born when he is old?" he says something ludicrous or perhaps gently mocking. "Can a man enter his mother's womb a second time and be born again?" Either way, whether in confusion or still with a certain confidence in his worldly acquired human knowledge, it is a literal way of thinking and reasoning. Letting go of this to embrace the things of the Spirit is like asking a land animal to swim or fly.
Once during a visit to Karea monastery in Athens, after the Divine Liturgy, a young nun I had never met before came over to me. I don't recall what we talked about other than two things she said to me. Quite easily and naturally she asked me if I was afraid of dying. I said, "No, but I like living and so I am not desiring to die yet." At some point she said something else that I have never forgotten. "There are two kinds of ignorance. The first kind is when know you know a lot about one thing and don't realize how ignorant you are. The other kind of ignorance is when you know a lot about a lot of things and realize how ignorant they are."
Over subsequent years, her words have been like a slow-acting beneficial medicine in me. Like Nicodemus, I did not realize how ignorant of being truly ignorant I was. Only a truly ignorant man resists or objects to being shown his true ignorance. Nicodemus, thinking he was wise according to his learning, also sensed there was a reality beyond his understanding which drew him to Jesus. Even though he approached him as one who knew enough to pronounce judgment, albeit a kind one, upon Jesus, he was searching for the Truth he dimly sensed.
Sensing this, Jesus began speaking to him about a knowing that is of an entirely different order; something that was, as yet, hidden from Nicodemus' understanding. Nicodemus' studies, even though religious, had not managed to elevate him above what is born of this world. He knew a lot about his Tradition, but was a creature of his times and social class, and blinded by unseen sins and prejudice, just like we all inevitably are. He had been steeped in religious forms all his life, but as yet, he knew very little about the Kingdom of God to come, the spiritual Kingdom he longed for according to his limited understanding.
Jesus began to teach him that the Kingdom of Heaven is not built simply on more and better things of this world, or out of learning more and more from study; or of doing more and better things. It is not achieved by human technology, desire, strength or any undertaking from below. We don't approach Spirit by some sort of progress. It is of an entirely different order. The Spirit approaches us.
Jesus responded to Nicodemus's presumption of knowing about who he is and about the Kingdom of heaven from above, by speaking to him of the reality of a gift that comes to humanity from beyond this created world which humanity cannot grasp on our own like the mythical Prometheus who tried to steal fire from the gods.
Jesus declares to Nicodemus, "The wind blows wherever it pleases. You hear its sound, but you cannot tell where it comes from or where it is going. So it is with everyone born of the Spirit."
"How can this be?" Nicodemus asked. 
"You are Israel's teacher," said Jesus, "and do you not understand these things? If you cannot believe earthly things I tell you how will you believe heavenly things. No one has ascended into heaven but he who descended from heaven" the Son of Man." [Jn 3:8-13] 
Having awakened Nicodemus to an unknowing of what he presumed to already know, Jesus now draws on an event from Israel's history that Nicodemus would have been very familiar with, in order to show him a new way of seeing the things that are to come. For Jesus well knows that the time of his crucifixion is fast approaching and the Nicodemus's precautions in approaching by night and seeking to ascertain whether he is "good or evil" is in response to the growing division within the ruling Sanhedrin over Jesus' teaching and his activities.
Jesus tells Nicodemus, "As Moses lifted up the serpent in the wilderness, so must the Son of man be lifted up, that whoever believes in him may have eternal life." The Israelites were traveling in the desert after escaping from Egypt and a Canaanite king attacked them. The people appealed to the Lord who gave them victory over their Canaanite attackers. But shortly afterward, as they were going to Edom and traveling around the Red Sea they began to grow impatient and complain.
"Why have you brought us up out of Egypt to die in the wilderness? There is no bread! There is no water! And we detest this miserable 'light' bread!" [Num 21:5] referring to the manna, which in Hebrew means literally "What is it?" which was showered upon them as a gift from God to sustain them. Ungrateful now and grown tired of this ration, they gave the manna a disparaging name complaining that it was a cheap, insubstantial or "light" bread they now detested.
After this, venomous snakes attacked the people and many of them died. It's easy to die from negativity, complaining and all the emotional venom that comes from ungratefulness and forgetfulness of God. The people responded to this devastation by once more turning to God in repentance. They asked Moses to intercede for them to take the snakes away.
The Lord told Moses to "Make a snake and put it up on a pole; anyone who is bitten can look at it and live." So, Moses made a bronze snake and put it on a pole and whoever looked upon it lived, and they continued on their journey. [Num 21:8-9] [1]
This is an image Nicodemus would have been familiar with, but he could not yet know what it meant for Jesus to liken himself to the bronze serpent on the stick. This would come later with his crucifixion and when it did, the crucifixion would put a question to Nicodemus. What did he see when he looked upon Christ crucified? More importantly, where would he stand, in the light or in the dark?
Jesus is preparing Nicodemus to understand how the Son of God becomes the Son of Man and accepts the curse of the cross, being crucified by men as one who is threatening to poison their faith and destroy their life. The high priest can justify his arrest and execution by saying, "It is better for one man to die for the people than for all the people to perish" and not realize the prophetic truth of his words which are beyond his worldly understanding.
St Justin Martyr in the 2nd century understood the sign of the bronze snake on the pole as declaring "that death will come on the serpent through him who would be crucified. Salvation was to come to those who were poisoned by having been bitten by the serpent, and as an antidote, committed themselves to the Lord who offered his Son to the world unto crucifixion."[2]
It is worth noting that just as the Israelites quickly lost their gratefulness to God for saving them from the Canaanites as soon as circumstances again proved challenging, this also happened with the memory of God saving them through Moses holding up the bronze serpent. Indeed, they kept the pole with the bronze serpent wrapped around it, for the next 700 years, but lost its meaning.
During the reign of King Hezekiah in 700BC, the Israelites had begun worshipping it as a pagan symbol. They even burned incense to it as they were doing for all the pagan gods. The King, in order to prove its worthlessness as a mere idol, gave it a derogatory name – "Nehushtan" which in Hebrew means "a mere piece of brass," a brazen thing." He then tore it down along with the rest of  the pagan idols Israel has raised up in place of God, thinking they were being religious.
In the days after Jesus was crucified, even his disciples, like St Luke and Cleopas on the road to Emmaus, were disturbed and confused by what they witnessed. They did not rejoice in seeing the face of Christ in death on the cross. It was shameful and demoralizing. Like Nicodemus, they did not fully comprehend the meaning of who Jesus is and what it means when he says "No one has ascended to Heaven but he who descended, the Son of Man." By all worldly understanding, a great man, a prophet and wonder-worker had been utterly defeated, along with his message.
What they did not realize is that God descended and gave himself to be the Son of Man, to be the one who undergoes the full effects of the poisoning of the human race by the serpent unto death in order to raise up the human race on the third day and ascend into heaven bringing humanity with Him.  
It is only when Jesus, unrecognized, walks with the disciples and reveals himself to them in the Scriptures that they begin to comprehend what the cross meant. It is the Holy Spirit revealing his Resurrection and appearance to them in the Breaking of the Bread that opens their eyes to the reality of the Kingdom of Heaven that is beyond mortality.
This is what Nicodemus, for all his learning and privilege under the law, could not yet comprehend. He was searching for Jesus "by night" in the dark, like blind Bartimaeus, not yet realizing the depth and breadth of his blindness. According to worldly measures, Nicodemus was a privileged and learned man of authority and respect. Dressed in the robes of worldly glory he was a man of substance. But spiritually his eyes were just beginning to open. Like the rich young ruler, he found himself trying to establish a connection with Jesus without letting go of his attachment to the worldly power and relationships that were part of his allegiance to his tradtional understanding of his religious faith. This is what all of us do without realizing the extent of it. And like the Israelites, we forget the mighty acts of God and moments of Grace we have glimpsed and fall prey to creating idols out of our faith instead of entering into the living reality of it. 
What do we see now, 2000 years after the event of the crucifixion, when we look upon the elevation of the Cross? How do we approach Jesus? Do we come by night, not willing to fully admit to others how we value Orthodox Christian faith and life?  Do we wave about like a flag in the ideological winds of society that have less and less place for Christianity because they have forgotten its history, and are blind to its truth and meaning as Israel became blind to the meaning of the bronze serpent? Many still burn incense and pay a certain superficial obeisance to Christ, but all too easily settle back into worldliness as the place of our comfort.
Jesus' last words to Nicodemus on that night were a prophetic word. "Whoever lives by the truth comes into the light, so that it may be seen plainly that what they have done has been done in the sight of God." [Jn 3:21]  Jesus himself IS the fulfillment of the Law Nicodemus had made his life's study. Just as the Law was given to Moses from above by the Lord, Jesus himself, the Son of God, comes down from above and unites fully with humankind in order to save us.
He who is from Above is destroyed as one from below.
He who is the Truth is condemned to death as a deceiver.
He who wears Light as a garment is clothed in the darkness of human sin.
He who comes not to judge man, is himself judged by man.
He who is Life extinguished death by dying.
Because of the resurrection of Christ on the third day, behold through the cross joy has come to all the world.  The Cross is a measuring stick and lightning rod. How often have we been struck by illness, loss, and seemingly impossible situations that we do not want, only to find our way deeper into the Light by enduring the darkness without losing hope in Christ.
A man who had suffered and survived many challenges in a long life told me recently, "When I look back over my years, I can't think of many times God answered the specific prayer I prayed at the moment, but I can see that over the entire course of my life, God has answered all my prayers and more, in ways I did not realize at the time."
This is a glimpse of the unseen presence of God vividly present in our lives, but let us not forget that the Lord remains out of reach from our control and hidden from our attempts to see without the aid of the Holy Spirit in a heart humbled by repentance and grown strong in gratefulness. Let us praise His holy resurrection and elevate the empty cross, for by enduring the cross for us, he has destroyed death by death. "O death where is thy sting?" [I Cor 15:55].
The words of Christ to Nicodemus are for us all.  If we look upon the One who descends in love for us offering his life, shall we approach him only by night or with boldness in the full light of day for all to see, with a faith unashamed  and a love unfeigned.
____________________________________
[1]This is where the Caduceus, a symbol of the medical profession, comes from which is generally dated back to Asclepius, but which actually predates this by1000 years.
[2] Oden, T. Ancient Christian Commentary on Scripture, Vol IV-A, J. Elowsky, ed, Illinois: Intervarsity Press, 2006, p. 123.