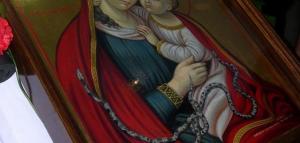 On the Greek island of Kefalonia in the Church of Markopoulo, every year on August 6th, the Feast of the Transfiguration, the "snakes of the Panaghia," as they are called, make an appearance. They move freely throughout the church especially favoring the icon of the Panaghia, remaining until the conclusion of the Divine Liturgy on the feast of the Dormition [August 15th] when they disappear into the surrounding forest. They are not seen again until emerging the following year for the same two feasts.
The local faithful do not fear these docile snakes which are easily handled and are a species unique to the island.  They insist that these snakes, unlike all normal reptiles, are warm-blooded. The phenomenon began in the 1800s following a pirate invasion of the monastery. You can read more on the story at the link below.
                            [See  http://orthochristian.com/105628.html ]
Well, the Feasts of the Transfiguration and Dormition are upon us. Our family is fasting as is the custom of the Orthodox Church during this time, while a different group of creatures who inhabit the woods a few houses down from our house have begun to come out for their revelry and feast in our backyard. 
I dream of setting up a camera to see the secret procession around 2 or 3AM as these strange shy hesychasts silently move together down the street of our suburban neighborhood, passing all the other houses, and entering single file through the hole in our backyard fence, where they proceed to feast on our grapes without our blessing.
The raccoons are dressed in the great schema of the forest, ringed in black and grey with burning black eyes. I've seen them fastidiously roll jelly palm fruits in their hands like a ball before plopping them into their mouths. Possums, dressed in white and gray, mingle among them without disturbance like a group of quiet and gentle nuns. But they are messy. 
A couple of scruffy feral cats like wandering mendicants, street smart and eating whenever they can, whatever they can find or catch,  can also be seen lounging in the sunlight as relaxed as a pool of water poured out on the pavement. Apparently they join the others in their nightly raids.
Our yard is organically maintained with tender loving care by my wife Claudia who is a master gardener and lover of all things living. It's terraced and paved with rocks that I  enjoy arranging.  Hummingbirds visit the Jasmine and bright red New Guinea Impatiens in the cool of late afternoons. Our patio is covered by a canopy of  Scuppernong grapes, I planted for shade and surrounded by herbs and flowers of all kinds.  Fruit trees, blackberries, ripe figs, fragrant jelly palm, all thrive within a small enclosure fenced in on all sides so no dogs can disturb the feast.  It's too good to pass up. I get it. 
Our nightly visitors are like kids in a candy shop leaving a trail of evidence behind them. Every morning, for a brief few days around this time of year, uninvited, this motley fellowship leave dozens of not-quite-ripe Muscadines all over our patio. Quite the little Fauntleroys, the possums narcissistically take only one bite of each grape and spit the rest out letting them fall uneaten from the vine while they scramble over the canopy looking for another one. I haven't figured out if the raccoons are equally as wasteful or if they just like jelly palm fruits more.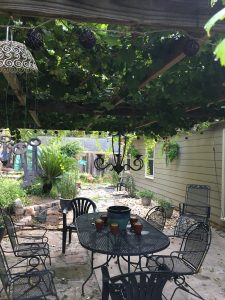 But we have one secret weapon. As perfect as this set up is for them, not a single one of these critters is able to resist the temptation to eat some slightly spoiling fragrant tuna put inside the cages I use to enroll them in a mandatory relocation program.
The first morning before light Claudia had her flashlight out and said "We got a raccoon." That meant a trip before work some miles down the road to settle the little fellow in a new forest. Unfortunately for us, relocating this one didn't make a dint in the mess left on our patio the next evening. 
We set the trap again and caught one of the feral cats. He was not happy about it and growled his displeasure in a low guttural moan that made him seem a lot bigger and more dangerous than he was. We haven't seen him since he was released. The next day we got another raccoon. And then a possum. And another feral cat. He hasn't been back either. 
This morning my flashlight revealed another raccoon's eyes twinkling in the bright beam of light. Did you know raccoons can bark? I didn't. Until you are frightened out of your wits, cornered, and your back is against the wall, you don't know the kind of fight that can arise in you to save your life. It's hardwired and activated in exceptional circumstances, like the Hulk.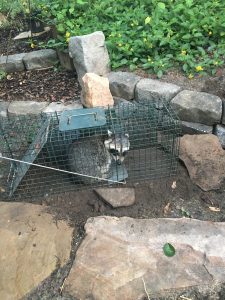 I worked with a soldier once who after being attacked by civilians as he walked through a city in Iraq, getting hit by bricks, kicked and surrounded by pounding fists after being given orders to stand down, suddenly found a force arise within him so ferocious that he had to be pulled off a man by his comrades, because he was killing him. He couldn't forgive himself later for the beast he had discovered in himself at that moment which had taken over to protect him and to punish anyone who would threaten him that way. 
One of my Seminary professors was working on his car one day when the jack broke. His wife had been standing by him at that moment and instantly picked the car up by the bumper, lifting it enough to get him free. It saved his life but she broke her back in the process. For a split second she did the otherwise impossible. 
This hard-wired neuro-hormonal self-protection system makes all the more remarkable the dialogue that Jesus and the thieves on the cross had at the very moment that their backs were up against the wall and the last gasps of life were tapping at each of them.
One of the thieves seeking to save himself, was bitter over his plight and lashing out even from his last breath. To the man dying beside him he spoke the proverbial word of humanity that is willing to give up the blessing of personhood and the freedom to love for the power to control. He asks cynically and selfishly, the same question as do the passers-by who wag their heads before the cross and even the religious leaders who waited to see what would happen. "Are you not the Christ? Save Yourself and us!" [1]
He was unable to see Jesus because he only had eyes for himself. He had no love and saw the world and everyone in it through that lens. His was a worldly life that sought to take and offer himself whatever he wanted without blessing, believing there was no Kingdom beyond biological survival of dog eating dog and the satisfaction of his own desires, prejudices and opinions. In this world, the golden rule is "The one's with the gold rule." or at least think they do for a time.    
Love for his own life blinded him. This kind of self-centered desire amped up by emotional attachment and ideological religious fervor had moved Peter to take up his sword and cut off the ear of the servant of the high priest. No surprises here. But Jesus wanted Peter to comprehend and give himself to a deeper sacrifice of self-offering which he was revealing. He told the Apostles to be watchful for "I am sending you out as lambs among wolves."[2] and "an hour is coming when whoever kills you will think that he is offering a service to God." [3]
We are made in God's image, yet continually try to make God in our human image, reducing Him to what we are familiar with and think we can control. We choose power, control and efficiency over love which is willing to offer so much more than we can earn or create without it. 
By stark contrast, the other thief is angry not for himself, but in behalf of Jesus. He turns and rebukes the other fellow. "Do you not even fear God since you are under the same judgment? We are punished justly for we are receiving the punishment we deserve for our actions, but this man has done nothing wrong." [4]
How could he be more concerned with Jesus than with himself at that dire moment? How could he "see" the innocence of Jesus?  Only love can see another clearly.  Fr. Dimutru Staniloae poignantly declares "Insofar as I am not loved I am incomprehensible." [5] Love is a sign of Communion.
By his words and actions, cornered, and with his back against the wall, the thief on the cross fights not for himself but for the 'other.'  In this love he begins to recognize something of the truth of Jesus and the meaning of the Cross—something that had evaded even the Apostles on so many occasions when the Lord tried to help them understand that God's way is the way of humility, mercy, forgiveness and self-offering that surpasses the condemnation, domination and self-protection that are the way of the fallen world. 
The truth of the thief's understanding is further confirmed by Jesus' response. With his back up against the wall, cornered and nearing his last breath, Jesus responds "Today you will be with me in paradise." Jesus, while embracing with full and free acceptance the complete helplessness of the human condition unto death in order to transform it, welcomes and comforts one whose love and faith have revealed him to be one of His own. Extraordinary. Could  this rare and Holy, Pure, Immortal  and Life-giving fruit fully ripen in any other way?
Meanwhile, closer to home, in light of these reflections. I find myself once more pondering the puzzle of the love of Tuna. It doesn't inhabit the woods or streams where these animals feasting in our backyard inhabit. Maybe, like the "tree of the knowledge of good and evil," until the moment of being faced with this new thing prepared for them in the backyard, they had never before encountered the possibility of being trapped by their own desire to taste it. The animals don't have a choice before them like we do. What if the choice to recognize there is the possibility of a relationship of Communion that is greater than natural mammalian desire is the beginning of our humanity?  After all as St. Gregory of Nazianzen has suggested, we are all "animals in the process of deification" [6] that is, of becoming "persons" as God who is Person.
Why is it we have to taste what we have never tasted, just because we can and because it appears to us clearly as being "good for food and pleasing to the eye, and desirable for gaining wisdom." [7] What exactly is it about he love of Tuna that captures us and eclipses our love for God?
Of course, the voluptuous beauty and desirability of creation and the joy of creativity is never the problem is it? The problem is not how beautiful and desirable the world and the people in it are, the problem is when the love of tuna involves transgression of God's life that violates everything and everyone without our realizing it at first. Taking and eating our tuna, whatever it is, without a blessing, is a response to the "subtlest voice in the garden" [8] lulling our conscience to sleep while unbridled instinct, vainglorious posturing  and limitless need and greed take over and lead us into a trap we are unaware of; a trap of our own making.  
I have heard something attributed to playwright George Bernard Shaw that is quite illuminating. "Hell is having to do what you want." Hmmm… God leaves us free. Sin doesn't. We can trade the blessing and promise of our personhood, confirmed and realized through Holy Communion, in order to walk into the cage of beastly determinism and self-sufficiency if we want; in order to eat forbidden fruit. We do not realize at first what we are forfeiting and what we are subjecting ourselves to in order to do this.
Or we can choose to trust the love of God and rely on Him. Like the thief on the cross, we may at the last moment, in our direst circumstances, in the presence of incurable disease, murder, loss, death and betrayal, exercise  the great freedom and unmerited privilege of being more interested in Christ than in ourselves. We can look for a Kingdom beyond this world, rather than worry ourselves to death by trying to hold a place for ourselves in this world without realizing it is CERTAIN that in death we will release everything we have accumulated.
Perhaps our path is most clearly revealed when our backs are against the wall and we realize that we are helplessly caught in the cage of our own desires.  If only…if only we will recognize that we have found ourselves here by our own choices.  Instead of turning against God in a huff, railing against apparent injustice or telling ourselves that He doesn't care about us; or that God doesn't even exist, and cynically reviling this possibility as we gasp our last breath, we can repent and turn toward God instead of ourselves.  Instead of squirming in resistance, we can move from the automatic self-protective beast within us in surrender to love and turn toward our true home, becoming the docile children of "Our Father in Heaven" whom we trust at the direst and most apparently forsaken moment.
St. Silouan discovered this paradox powerfully in his life, as have all God's saints in one way or another. God is most available to us when we are most helpless and feel most abandoned. Then the mysterious paradox of which St. Dorotheos speaks becomes visible as it did to the thief on the cross. "The grace of God comes swiftly to the soul when endurance is no longer possible." [9] God resurrects Jesus from the dead.
Whether we give ourselves up to the belly of the beast, or like the snakes of the Panaghia, St. Seraphim's bear and the thief on the cross, recognize the presence of the innocent and humble Holy Spirit and bow our heads before God who comes to us hidden in the humblest form – our own humanity, we will confront the mystery that he looks upon us from the heart even of our selfishness, still with love, hoping we will return it. Vulnerable unto death like we are, but through no fault of His own He willingly accompanies us to the depths of our respective hells, in order to save us and we are eternally grateful.
There is a Great Feast to which we are invited. Let us receive the blessing of being clothed in His Grace in order that we may attend, in the full light of the Eternal Day.
__________________
[1] Lk 23:39
[2] Mt 10:16
[3] Jn 16:2
[4] Lk 23:40-41
[5] The Experience of God: Orthodox Dogmatic Theology, Vol. I. The Experience of God, Brookline, MA: Holy Cross Orthodox Press, 1998, p. 25.
[6] from St. Gregory's Paschal homily  (Patrologia Graeca, volume 36, column 850)
[7] Gen 3:6
[8] Gen. 3:1
[9] cited in Mursell, G. (ed) The Story of Christian Spirituality, Minneapolis, Fortress Press, 2001, p. 138