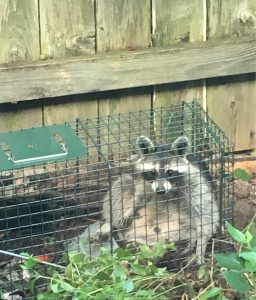 We tempted and led a raccoon into captivity briefly, relocating it this afternoon to a faraway country. The face of this shy little creature sitting in the cage, kept returning to me during the Divine Liturgy, along with the echoing refrain, "for the love of tuna."  
Several varieties of grapes grow in our yard.  Scuppernongs cover the fence along the Southern exposure of our house. Large Muscadine leaves provide shade for our back porch in the summer and by September sweet purple and green varieties are plentiful, hanging in clusters from the ceiling unless…they are harvested first by the little scamps from the nearby woods that visit us by night and devour the fruit before it is fully ripe.
One year in our flashlight beam we discovered a possum, hanging onto the trellis outside our bedroom window with grape juice flowing from both sides of his open mouth as he hissed at us with all the ferocity in him.  No doubt whatsoever about what he had been doing!
Another evening we watched with amazement through our living room window as a racoon masterfully went about preparing his dinner, picking up orange jelly palm fruits and rolling each one in his hands before plopping it in his mouth, one after another, the way I sometimes mindlessly consume M&M's.
We haven't been eating the jelly palm fruits and were willing to share those, but when it came to the grapes, not so much. That summer we trapped and relocated three racoons and two possums who had found our organic smorgasbord much to their liking. The following two summers we had a good harvest of grapes. Then the third year we hardly got any because, as we kept saying to one another, "something is eating them" while doing nothing about it.
This year, noticing shells of grapes lying in piles on the ground at the bottom of the fence, not quite ripe, already gutted of their fruit, we decided it was time to uncover the new bandit. Claudia googled what kind of food attracts possums the best. Fish! Leave a smelly trail up to the door of the trap and smear it on the inside, with a little treasure trove at the very end. When the animal steps on the metal plate to get the tuna, the latch is trigged and the gate on the other end swings shut.
We put it in place last night and first thing this morning Claudia announced brightly, "We caught a raccoon!"  Not what we were expecting, but at least it wasn't one of the three feral cats that have made our yard their day-time rendezvous.
After Liturgy we found a distant wood and the racoon launched out of the trap like a greyhound as soon as I opened the trap door, racing toward its new home.  We are planning to use tuna bait a few more times over the next couple days in case he or she has family members who need to be reunited.
For the love of tuna, the raccoon had walked into a trap unawares, following something that had attracted him. He was tempted and led into captivity, because he had been eating grapes from a vineyard whose fruit was meant for its owner. What kind of transgression was this? He had no way of knowing what he was doing by satisfying his appetite. He was just doing what raccoons do. No sin in that. Unless there is something greater than nature itself. 
Human beings live between the animal world and the divine. We don't live by bread alone. Jesus likened the situation to one of being caretakers in a vineyard. All creation is the Lord's vineyard and we are its tenants. The vineyard doesn't belong to us. Why don't we realize this and act accordingly? St. Maximos the Confessor explains, "a person is humble when he knows that his very being is on loan to him." 
In other words, I am a tenant in regard to my own being and lacking humility, I remain for the most part unaware of this reality. Lacking watchfulness and sobriety, I choose the wrong approach to the Lord's vineyard on a daily basis and often fall into captivity, all for the love of tuna.
Every moment in our life there are always two doors set before us. On one door is written the word "Life" and on the other "God." Which do I choose? The letters written on the door of life magically change from time to time, indicating whatever it is I want most at the moment, like… well…tuna.  Sometimes I am so focused on tuna that I am led into captivity in ways that far outweigh the delight of what I thought I was hungry for. The stunning realization of the words of Psalm 63:3 elude me: "Your everlasting love is greater than life itself." The door to God always leads to life, but the door to life without God, leads to captivity.   
Esau was so focused on his animal hunger [Gen. 25:30] that he thought nothing of giving away his birthright [Gen. 25:32] as firstborn son for a single bowl of lentil soup. At that moment he entered life through the door on which the letters "delicious soup" were written, not unlike our racoon who chose tuna. Esau didn't realize the captivity he had wandered into until much later when his heart ached for what he had forfeited." [Gen 25:30]
How many times a day do I sell my birthright as a son of God in order to enjoy something good in life that God wishes to share with me, but in my haste and pride and heedlessness, I take without His blessing, without gratefulness and awareness that its true nourishment lies in it being a link with God. When I enter the door of life, as Adam and Eve did, choosing the gifts over the Giver, I become a captive of sin and death.  
St. Anthony in the 3rd century described the human situation in terms of a hierarchy of potentials active in creation. "In the body is the soul, in soul is mind, and in mind is word." [1]. In the sanctified person, it is the Logos which commands and instructs the mind which governs the soul which animates the body. Whereas, "souls not bridled by reason and governed by the mind which restrains, steadies and directs (correctly) their passions—i.e. pleasure and pain—perish like dumb beasts." [2]
Lured by delight and captured by passions, reduced from a life of Eucharistic reciprocity to being dominated by pleasure and pain like animals, all for the love of tuna, my situation would be hopeless if not for the mercy of God which is greater than life itself. Thankfully, the Lord relocates me again and again according to his mercy, hoping that I will awaken to repentance. By assuming my creaturely condition and defeating death by dying he fulfills the words of the prophet Isaiah: "The Spirit of the Lord is upon me, because he has anointed me to proclaim good news to the poor. He has sent me to proclaim liberty to the captives and recovering of sight to the blind, to set at liberty those who are oppressed, [Lk. 4:18]
Though I wish to enter life through the door marked "God" I continue to find myself seduced into "ignorance, heedlessness and forgetfulness" [3] for the love of tuna, unaware that my very being is on loan to me. Having failed repeatedly to refrain from eating the Lord's grapes, like the thief on the cross, I hope in His mercy, who transforms what I have thoughtlessly received, into the gifts of His own Body and Blood, in order to relocate me from this life to the next where we shall live not by bread or grapes or tuna, but by every word that proceeds from the mouth of God.
 [1] Kadloubovsky , E. and Palmer, G.E.H. (eds.) Early Fathers From the Philokalia. London: Faber & Faber, Limited, 1976. p. 31.
[2] Ibid, p. 32.
[3] the three giants of St. Mark the Ascetic that block our spiritual struggle for salvation.