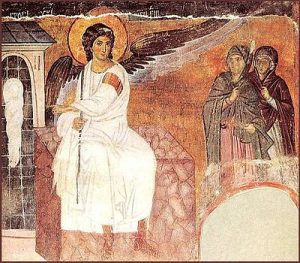 Matthew, our almost-two-year-old grandson, was visiting this week. He was out by the little fish pond in our backyard watching the koi swim around and looking like he wanted very badly to get in there with them.
There is a big bullfrog who chants for us each evening and at just that moment he decided to jump out of the grass into the pond in front of Matthew. 
"Jump!" Matthew exclaimed. (He doesn't know the word for frog.)
"Jump!" he said again and again, trying to comprehend this new thing.  Sharing the wonder of his discovery, Claudia told me the story when I got home. I shared it with the church this morning in a homily as the Spirit gave utterance. Several people talked about it over lunch and Fr. David sent me an email with the heading "Jump!" One simple word of amazement has passed into the lexicon of our family now as a Gospel message.
When the myrrh-bearers found the tomb empty of the body of Jesus, they were startled by angels who told them to go home and tell the Apostles that Jesus had risen from the dead and was going to Galilee as he had told them he would, before he died. There they would see him.
Angels. Risen from the dead. This is an encounter that required a leap beyond their ability to comprehend. There were no words to adequately convey their response. "They went out and fled from the tomb, for trembling and astonishment had come upon them; and they said nothing to anyone, for they were afraid."[1] Their silence has echoed among us ever since. 
Mysterium tremendums et fascinans. That's how the German religious philosopher Rudolf Otto described the human response to an authentic encounter with the Holy that is so "wholly other" we both tremble in fear and are drawn to it in fascination at the same time. There are no words capable of describing it. St. Paul, rarely at a loss for words, wrote: "I know a man who was caught up into Paradise, whether in the body or not I do not know, and who heard things so astounding they cannot be expressed in words, things no human is allowed to speak." [2]
Awe. Fear. Attention. We are undone. When it is time for the priest to offer the Holy Gifts during the Divine Liturgy the deacon calls us to prayer: "Let us stand well. Let us stand in awe. Let us be attentive." It is an invitation to prepare for speechlessness. We need this reminder, because we so easily forget we are on holy ground, witnesses of the Resurrection. If we are not watchful and careful, the more we are reminded to attend, the easier it is for us to forget!
St. Mark the Ascetic said that three giants of "ignorance, carelessness and laziness" stand in the way of our encounter with the Holy One. They attempt to block our path to worship in the eternal present by making everything seem so familiar and taken for granted that our hearts no longer jump! in recognition that we stand before the entrance to Paradise. 
It is written, "Fear of God is the beginning of wisdom"[3]. Our faith is not born of complacency. We stand before Christ Who gives us a peace not as the world gives, but a peace that is from one Who has conquered death by dying and given life to those who are in tombs waiting for Him to raise us from a life that is dead without Him.
None of us can comprehend death even though we live just ahead of it daily. It is wholly other in a way that is beyond our senses and imagination. We cannot fathom what it is "not to exist" anymore and we try not to think about it. Neither can we comprehend what it means that the uncreated eternal God is born of a woman, allows Himself to suffer human tragedy, be falsely condemned, executed, rises from the dead and then ascends bodily into the uncreated world of heaven beyond our reach.
We can imagine these realities, but only by reducing them to ways that do not awaken in us the fear and trembling of the myrrh bearers. If we have ears to hear, like my grandson's single word, the women's silent response to the angels' greeting at the empty tomb is an Evangelion. It bears the marks of an authentic encounter with the Holy. They are rendered speechless by encountering a mystery so profoundly beyond human power and comprehension that they have no words or emotions adequate to respond. By "saying nothing to anyone" they testify that they are drawn into hesychia; silence. This is the holy path to repentance; the beginning of wisdom.
It is from profound and utter silence before the Holy that contrition is born in recognition that our uncreated Creator, who is Wholly Other, has suddenly sprung to life right in front of us in a way that we cannot comprehend, yet we are invited to receive. Through bread and wine that are far more than what they appear to be, just as Jesus of Nazareth is far beyond being merely "the carpenter's son,"[4] we are invited to take the leap of faith to receive into us what St. Ignatius of Antioch called the "Medicine of Immortality" and by so doing be received into the very life of the One Who Is. 
This is the cure for what Clement of Alexandria called "the voluptuous choice"[5] that arises out of ignorance and leads to evil. The Apostolic fathers say that in the fall, the first human beings grasped at the creation heedlessly, without fear and trembling, as though the earth and all persons who inhabit it have no value other than as a means of satisfying animal appetites and vainglorious desires. When the world no longer is an iconic witness to the invisible presence of God, it is because it has been eclipsed by an illusion understandable by human means; a Tower of Babel.[6]
The Apostles did the same thing with Jesus. They did not ever understand Him when He spoke about the cross of His suffering and death. They responded to His attempts to teach them about this with questions like, "Which of us is the greatest?"[7] and "Who will sit on your left and right in glory"[8]. They went to sleep outside Gethsemane when He asked them to keep watch while He prayed before His capture and impending death.[9] Eleven of them fled and Peter denied and abandoned Him at His crucifixion and stood uncomprehending before the empty tomb.  After others began seeing him alive, they did not know what to make of it. Clearly, though the Apostles emotionally loved Jesus, they had not yet comprehended the consubstantiality of Christ, or the meaning of his Incarnation, Resurrection, Ascension. The coming of the Holy Spirit would teach them what cannot be comprehended by human intelligence on its own.
Mysterium tremendum before the Wholly Other does not come from human philosophy; cleverly devised stories, myths or the emotional enthusiasms generated by imagination and spectacles. Christian faith is noetically given, from beyond human power. An encounter with the Living God through the Holy Spirit quickens Christ's presence in our hearts, just as it did the Apostles. But we must tend the flame.
St. Macarios the Great says the door to the Kingdom of Heaven lies within our hearts.  We hold "Treasure in earthen vessels."[10] The heart is where Jesus knocks upon the door and waits for our return. He is not up in the sky waiting to be found and brought down. He is not a figment of our imagination or a puzzle to be deciphered. He is the mystery of our own being-in-relationship with the Wholly Other, waiting to be embraced where He has condescended to meet us face to face.
St John Climacus, St. Gregory Palamas and others of the neptic holy fathers instruct us to prepare ourselves in prayer by drawing the mind inside body and finding the place of the heart; to be utterly still and wait there in silence until contrition arises and sighs too deep for words announce His arrival.
It is we who must guard against living our lives outside our hearts. Struggling against St. Mark the Ascetic's three giants of laziness, ignorance and carelessness, let us pray to the Lord that we may repent and know the humility that allows us to approach the Eucharist and one other, in fear and trembling, our hearts in awe and with the chattering of our minds silenced in grateful adoration.
Then we may join the holy myrrh-bearers whose silence eloquently conveys to us the mystery they have encountered.   
[1] Mk. 16:8
[2] II Cor. 12:4
[3] Psalm 9:10; Psalm 111:10; Proverbs 1:7
[4] Mt 13:55.
[5] St. Clement of Alexandria, The Stromata or Miscellanies, Ante-Nicene Fathers, Chapter 17
[6] Gen. 11:1-9.
[7] Lk 9:44-46.
[8] Mk. 10:37.
[9] Mk. 14:41.
[10] II Cor. 4:7.
Icon from 1235 AD, from Mileseva Monastery, Serbia