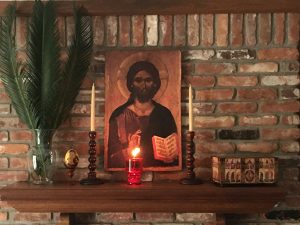 Fifty years ago, On May 4, 1970, the Ohio National Guard under the direction of President Nixon, killed four unarmed Kent State students on campus. This was emblematic of a decade of disillusionment ignited by the assassination of President Kennedy, civil rights struggles, and the heart-rending murders of Martin Luther King, Jr, and Bobby Kennedy. Deep division over the war in Viet Nam had pricked our nation's conscience and set in motion many forms of protest and resistance in response to the helplessness of people to heal the divisions among us. 
It was during this period that Jim Forest wrote Thomas Merton about his struggles as a Christian to support the efforts to bring an end to the war. He was tired and reaching out for support. In his thoughtful response, excerpts of which later became famously known as "Merton's Letter to a Young Activist," Thomas Merton offered words of direction whose value as a plumb line to reorient and guide our efforts during times of struggle still have a message for us today.
The next step in the process is for you to see that your own thinking about what you are doing is crucially important. You are probably striving to build yourself an identity in your work and your witness. You are using it so to speak to protect yourself against nothingness, annihilation. That is not the right use of your work. All the good that you will do will come not from you but from the fact that you have allowed yourself, in the obedience of faith, to be used by God's love. Think of this more and gradually you will be free from the need to prove yourself, and you can be more open to the power that will work through you without your knowing it. The great thing after all is to live, not to pour out your life in the service of a myth: and we turn the best things into myths. If you can get free from the domination of causes and just serve Christ's truth, you will be able to do more and will be less crushed by the inevitable disappointments. Because I see nothing whatever in sight but much disappointment, frustration, and confusion….The real hope, then, is not in something we think we can do, but in God who is making something good out of it in some way we cannot see. If we can do His will, we will be helping in this process. But we will not necessarily know all about it beforehand….[1]
In this Paschal week occurring in another time in history when there are deep divisions and struggles of conscience in a variety of areas in our nation, Merton's words are once again salient. We have the opportunity in the face of the shared danger and necessary restrictions brought into being by the COVID-19 pandemic, to enter more intentionally into ascetical restraint and a deeper contemplation of the meaning and purpose of our lives that are intimately related together with everyone else's. We have the opportunity to loosen the grip of our identification with the causes, possessions and desires have on us, that substitute for our authentic lives. 
In response to sheltering in place over the past few weeks, I have been noticing differences in tempo and awareness in a variety of areas.  I have walked 4-5 miles each day, and feel better physically.  Working in the garden digging, planting and pondering the magic of seeds, the joy of flowers blooming and cardinals at play, reawakens the meaning of Jesus' parables. And there is the gift of my wife's eyes often carrying a message of love and appreciation for our moments together, neither of us totally sure how many more we may have.
The unpredictability of how people react to this virus which has quickly attained a near mythological status, the inundation of news of more deaths and escalation of infections, brings awareness of mortality into view. It is not a morbid thing at all, but something simple, peaceful and more poignant at times than my heart is willing to allow. People passing by on my walks I experience with a more palpable vulnerability and in even a few words exchanged, or a gesture, there is a welcome of the other somehow evident just beneath the surface of things, pressing upward like a seed about to germinate.
I'm enjoying the opportunity to do more spiritual reading and writing and this is shaping how all this is affecting me.  As Merton suggested, "your own thinking about what you are doing is crucially important." It is crucially important, because looking at and receiving the world through faith in Christ changes how we experience life the world in so many subtle ways.
I find myself with gratefulness noticing the smells and sights and sounds around me—the tiniest little blue flower rising up through the pavement on a thin stalk, a box turtle in my path and stepping over a quivering snake on the sidewalk. Sometimes tears come at the thought of how careless I have been in my life and how often i have squandered the possibilities of being with Christ through intolerance or obliviousness to the world around me. 
The small changes of noticing the intricacies of world are not merely a move to extraversion or a sudden connection with the sensuality of nature as an end in itself, but seem to be more of a grateful appreciation for the embodied contributions of the tiniest of God's gifts declaring the presence of something invisible that brought it into being. Spices included in the meals Claudia prepares and the vividness of freshly picked greens from the garden become qualities I welcome not with avarice and hunger to fill my belly as is often the case at the end of a tiring day, but with surprise, interest and recognition due to each.
In these small releases of our individual primacy in favor of receiving His Life shared as our own "in all places and filling all things," we have a foretaste of the Resurrection. In giving up ownership of the world, everything is ours as a gift from God. In releasing ourselves from the need for people's approval and admiration, we recover the possibility of a genuine relationship with them. In dying to a world that revolves around me, I discover one in which Christ, the light that illumines all, is the Center of everything and everyone. To the extent that we lay down possession of our lives for love of Christ, we discover the possibility of taking it up again in a new way as a gift from His hand.
Standing together with Claudia this morning before the icon of Christ above the fireplace in our living room, decorated for Palm Sunday as we listened to a recording of the Divine Liturgy, and partook of bread and wine, Christ is in our midst and we are not alone. His Church consists of all of us together wherever we are. "Because there is one bread, we who are many are one body, for we all partake of the one bread."[2]
These are a few of the small gifts that this COVID-enhanced Lenten journey is making possible. I am reminded how easy it is to lose the rhythm of prayer, gratefulness and presence by becoming caught up in anxiety over the pandemic just as easily as rushing toward serving the causes and purposes that each of us are committed to in our lives. We are best served when our way of being does not separate us from appreciating the miracle of life whose presence is manifested through everyone and everything around us. These blessed encounters constitute the real meaning and purpose of our lives.
Paul Evdokimov a beloved Orthodox Theologian and professor at St. Sergius Institute in Paris, describes a path of life through the world that honors the significance of life at each moment. It isn't a matter of rushing to do something as much as one of being ready to act in response to God's invitation in just the way that is called for in a given moment. As seeds patiently wait for light to draw them to life, we pray expectantly and with intention to order to receive a more invisible light.
It is not enough to say prayers: we must become, be prayer, prayer incarnate. All of life, each act, every gesture, even the smile of the human face, must become a hymn of adoration, an offering, a prayer. One should offer not what one has but what one is.[3]
When I reflect on these things I am appreciative of  the frequently cited wisdom attributed to Mother Theresa, "We can do no great things, only small things with great love."  Although they are not a quotation, but a paraphrase of her words,[4] their meaning is an inspired exhortation to pay attention to what is happening in each moment of our lives, especially the little things.
St. John Maximovitch suggested that noticing the smallest things with love was a sure path to our salvation. "One needs only attend to details, to trifles, and try to avoid evil in the slightest and most trivial things. This is the simplest and surest way to enter the world of the Spirit and draw near to God."[5]
Once something becomes a cause we serve, including religion, instead of a love relationship we cherish, it too easily slips back into the primacy of human effort over the humility and vulnerability of shared Communion. In our increasingly aggressive and futile attempts to bring about the great changes we aspire too or think we must in ourselves and others 'to save the world',  we no longer attend to what and who is around us with mercy, forgiveness, gratefulness and love. We forget that He told His dsiciples, "I have overcome the world."[6]
Like Merton, St. John understood the dangers of  being possessed in this way by what we are committed too, however right and important it is, because our egotism inevitably distorts our motives and intentions. He viewed this pressured condition as indicative of a kind of hypnosis, or possession, which is to be avoided wherever possible. He counsels us to begin the spiritual journey by leaving vainglorious and impossible great expectations of ourselves behind. On the spiritual path neither the great causes nor the little things should be lost or obliterated by approaching them as if it all depends on me alone. Rather we approach all in partnership with Christ in response to every detail with equal care, for in Him all things become possible. 
There exists at the entrance to the spiritual realm a "hypnosis of great deeds: "One must either do some big thing or do nothing. And so people do nothing at all for God or for their souls! It is very strange — the more a man is devoted to the little things of life, the less he wishes to be honest or pure or faithful to God in those same little things. And, moreover, each one must adopt a correct attitude toward little things if one wishes to come near to the Kingdom of Heaven.[7]
In attempting too much we may end up doing too little or nothing at all. And being devoted to a particular thing or person in such a way that we neglect everything and everyone else, we fail to truly care. For as Geronda Antonio of Holy Gregoriou Monastery has suggested, "If you say you love someone and there is even one person on the earth you don't love, then you don't love the one you say you love."
Right relationship with everyone and everything in creation is through relationship with all such that Christ is the one we love in each and the One who loves us through all. This is the path our Lord walked and invites us to follow, every step of the way, not rushing the journey, nor dallying, but by being as gratefully present as we can at any given moment, realizing that the gift of the journey itself, is what we hope will have no end. 
                        Lord, love the world through me.      
                        Let me love the world through You.
                        And be loved by You through the world.
_______________________________________
[1] "Thomas Merton, excerpted from a letter of Thomas Merton to Jim Forest,  http://jimandnancyforest.com/2014/10/mertons-letter-to-a-young-activist/ downloaded April 12, 2020.
[2] I Cor 10:17.
[3] Paul Evdokimov, The Sacrament of Love, Crestwood, NY: St. Vladimir's Seminary Press, 1985, p. 62.
[4] Mother Theresa of Calcutta Center,  https://www.motherteresa.org/08_info/Quotesf.html
[5] " Maximovitch, St. John, "The Little Things Are More Important Than the Bigger," from Another City: Journal of Orthodox Culture, downloaded July 17, 2019, http://anothercity.org/the-little-things-in-life-are-more-important-than-the-bigger-things/
[6] Jn 16:33
[7] Ibid