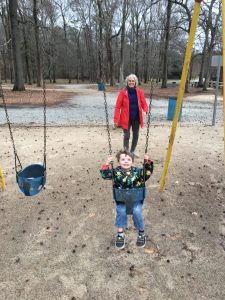 Our not yet two-and-half-year-old grandson Matthew spent the afternoon with us. Like a master conductor, he directed the two-piece orchestra of Yiayia and Papou. To the playground! But first, he wanted to feed the ducks.  As we walked to the playground he advised Papou to be sure not to step in the puddles. The slide was the first attraction.  He remembered that he got wet from the rain last time, and he wanted us to wipe it down first.
After an hour or so he wanted to swing. Enjoying the repetitive rhythms, his face suddenly took on a dreamy expression as he began making up a song. I had never seen him do this before.  It was a gentle transformation into an act of translation coming from within the moment of happy encounter.
I said, "Matthew made up a song!" and he laughed and then continued with the words just flowing out of him— about the playground and then looking up at the sky he began to sing other words I couldn't understand.
I asked him "Are you looking at the sky!?"
"Yes!" he was.
 I was surprised by this small act of creation and the lyrical wonder that had bloomed on his face suddenly as the words tumbled out of his mouth like little pebbles washing down a flowing stream.
At the moment of co-creative witness, Matthew was unaware that over centuries of study, scientists have identified more stars hidden in the heavens and more galaxies in the universe than there are grains of sand on the beach. Yet his virginal wonder and spontaneous joy were the same as if he had begun to realize the immensity of it all, exceeded perhaps only by the gratefulness of recognizing the mystery of its thatness later in life.
It is said that Holy Wisdom played before the Lord before the creation. "I was beside him, like a master workman, and I was daily his delight, rejoicing before him always. [Proverbs 8:30]. I can imagine the creation tumbling out of the Lord's mouth like Matthew's song, as the Lord's Spirit delights in every word that proceeds from the Logos.
"In the beginning was the Word and the Word was with God and the Word was God. And all things were made through Him, and without him was not anything made that was made." [Jn. 1:1-3].
The thing about God's Word is that whatever is uttered is. There is no gap between Word and Fact.  The same is true of the Son of God himself in whom the uncreated divine essence and the created human being are united. "Truly, truly, I say to you, the Son can do nothing of his own accord, but only what he sees the Father doing. For whatever the Father does, that the Son does likewise." [Jn. 5:19]
So much depends on who is speaking and who is listening and for what purpose. If you are looking for Christ and the Kingdom of Heaven, a child can reveal this to you. [Mk 9:36-37; Mt 18:3-5] If not, even the words of Jesus will seem like only the foolish pretensions of a carpenter's son with delusions of grandeur.  
The creative word always springs forth from communion with the Creator. Jesus said, "If anyone loves me he will keep my words." [Jn. 14:23] Apart from being-in-communion, there is only the monological confusion of Babel.
What renders the Word of God creative in the heart of man is not what activates the mind or stimulates imagination or desire, but what invites a person out of monologue and into relationship. And more than a relationship of monologues, "what is essential is not what goes on within the minds of the partners in a relationship but what happens between them." [2] This is love.
Archimandrite Sophrony elaborates:
"The language of human words and concepts is able only to a very limited extent to convey one man's inner state to another. The indispensable condition for mutual understanding is a common or identical experience. Without it there cannot be understanding because behind our every word lies our whole life. Into every concept each one of us introduces the compass of his own experience and knowledge, which makes it unavoidable that we should all speak in different tongues. Yet, since we all share a common nature, it is equally possible by words to provoke a new experience in the soul of another, and thus generate new life in him. And if this applies to human intercourse, how much more so does it apply where Divine action is involved. The word of God does, in fact, given a certain inner disposition of the soul, offer new life—the eternal life which is contained within it. 'The words that I speak unto you, they are spirit, and they are life.' (Jn. 6:63) [1]   
Thus, when Jesus says, "By your words you will be justified, and by your words you will be condemned." [Mt 12:37] he is confirming the fact that it is only love that is capable of discerning the Truth of the One Who IS and Who cannot be known apart from a communion of love.
Even though we declare in our prayer, that the Spirit of Truth, "is in all places and fills all things" He goes unnoticed and unvalued in the same way that the multitude of stars and the miracle of each moment of our life goes unnoticed and unvalued when we remain in our own minds. Rising no higher than our own human understanding, we can only lament with Ecclesiastes, "What has been is what will be, and what has been done is what will be done, and there is nothing new under the sun." [Eccles. 1:9]
But the Lord's Word is eternal and ever new. He says "Behold I am doing a new thing." [Isaiah 43:19] and in Him, in joyful amazement we "see a new heaven and a new earth for the first heaven and first earth have passed away." [Rev. 21:1]
Like Matthew, at any moment, we can "sing unto the Lord a new song" [Psalm 96.1] with grateful wonder, because Christ is born in us and everything is new!
__________________________
[1]  Sophrony, A. St. Silouan the Athonite, England: Stavropegic Monastery of St. John the Baptist. 1991, 208.
[2] Maurice Friedman, Martin Buber: The Life of Dialogue 4th edition Routledge: London and New York. 2002, 354.