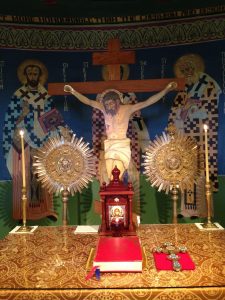 Adam and Eve created enmity with each other and the world around them when they started comparing themselves to God and each other. God found out about their dis-ease when He entered the garden looking for communion. Calling out for them, Adam answered, "I heard You in the garden and I was afraid because I am naked so I hid." [1]
"Who told you, you were naked?" [2] God asks. Imagine a slightly different response to Adam's lament. "I warned you about the dangers of comparing yourselves with others."
Kenodoxia [vainglory, or literally "empty" glory] arises with comparison. The 'eating of this apple' is the moment that humanity begins to be clothed in a man-made identity constructed out of being better or worse than someone else in place of garments made of the uncreated energies of divine grace that uniquely fit each person. This is the moment humanity begins to be sustained by bread alone and the sweat of human labor, rather than "every Word that proceeds from the mouth of God" [3]. As in Dostoevsky's story of the Grand Inquisitor, humanity began to aspire for nothing more than a portion of daily bread, in place of the epiousian [4] of the Holy Eucharist that gives eternal life.
Among the more salient and memorable observations of the respected and widely traveled former Swedish U.N. Secretary General, Dag Hammarskjöld, is that "humility is just as much the opposite of self-abasement as it is of self-exaltation. To be humble is not to make comparisons." [5] This is something that not only evaded the proverbial Pharisee in Jesus' parable, who by comparison considered himself far superior to the Publican beside him [6], but the Apostles as well, because this has been inherent to the human condition from the beginning. Apart from repentance, there is no cure.
In the Gospels, we have the confessions of Jesus's disciples, a treasured memory of the Church, though one that we often overlook to our own disadvantage. By identifying with the good disciples in comparison to the overweening prideful Pharisees, we show ourselves to be the same as the Pharisees by our very comparison! 
The Apostles tell us that even in Jesus' company, they were actively seeking to create an identity by comparing themselves to others and competing with each other for the best seats and the most favorable recognition among each other. The Apostle Peter confessed that, like the Pharisee with the publican, in his zeal he told Jesus "Even if all these [other disciples] fall away because of you I will not!" [7] Later the disciples argued among themselves "which of them was the greatest" [8] and James and John even tried to finagle their way to the right and left hand of Jesus, elevating themselves above all the other Apostles. [9]
Commenting in his book Markings, on the strange paradox of false glory swinging from high to low that is inherent to human religious striving, Hammarskjöld points to the intrinsic meaning, joy and truth to be found in living itself, rather than in any humanly-derived glory by comparison reminding us of Jesus' words, "I am the Way, the Truth and… the Life." [10]
Except in faith nobody is humble. The mask of weakness or of Phariseeism is not the naked face of humility. And except in faith nobody is proud. The vanity displayed in all its varieties by the spiritually immature is not pride. To be, in faith, both humble and proud: that is to live, to know that in God I am nothing, but that God is in me." [11] 
In other words, none of us need try and distinguish ourselves from humanity in which we are all made, but rather realize as Elder Arsenie points out, that "humility is genuine only when Christ is present." [12] Thus we do well to cry out, Lord Jesus Christ have mercy on me a sinner! From the embrace of repentance arising from communion with Christ and all whom He loves, we find ourselves yet again naked…but no longer ashamed. 
The real and authentic life of each of us is "hid with Christ in God." [13] God alone knows our true value which is derived from His own gifts. How then is it that awareness of our nakedness compared to the Creator and Only Lover of Humankind becomes a block to Communion rather than the very deepest possible thirst for it?
Authenticity is precisely the humility of this very same nakedness that adorns Christ on the cross given into the hands of His creation. At that moment, by human reckoning, he is nothing by comparison with the great powers of the Sanhedrin and the Roman Empire. Jesus the Son of Man is shamed, humiliated and defeated as his mother and John the Apostle look on in grief.
For those who seek the deeper meaning not made by human hands nor revealed to those who put their faith in the highest that humanity can reach on its own without God, St. Isaac the Syrian points out, "humility is the clothing of the Lord's condescension." Nakedness in all its vulnerability and willingness to forgive and love the "other" is the very Image in which each of us are made and the likeness unto which we are drawn.  Jesus foretold that in this way, "When I am lifted up from the earth I will draw all humanity to myself." [14]
Lord save me from the vainglory of seeking an identity by comparison and the pride of trying to exceed my estimation of other people or to exercise power over them.  Enable me instead to find my place among humanity in ordinary ways by being fully present wherever I am, whoever I am with, submitting to the Holy Spirit in all things for which I am responsible at any given moment. For we each have our unique calling and as Fr. Lev Gillet describes, the saints are those whose ordinary lives invisibly reveal that every ordinary thing is beyond compare.
Characteristic of the Spirit is not the wonder-workings and the external miracles. Those who submit themselves to the Spirit became able to do usual things in an unusual  manner, to accomplish a daily act with a new, more sublime perspective. This type of unusual activity may go on unnoticed by human eyes and yet everything has been transfigured, everything has a changed form. [15]
The Incarnation, Theophany, Crucifixion and Resurrection of Christ all reveal that glory and humility are inextricably intertwined. This is what the disciples and the Pharisees both missed, suggesting that we will as well. Therefore, let us be ever mindful:
every manifestation of Jesus Christ, both in history and in the inner life of each man, is simultaneously a manifestation of humility and of glory. Whoever tries to separate these two aspects of Christ commits an error which falsifies the whole of spiritual life. I cannot approach the glorified Christ without, at the same time, approaching the humiliated Christ, nor the humiliated Christ without approaching the glorified Christ. If I desire   Christ to be manifested in me, in my life, this cannot come about except through embracing him, whom Augustine delighted to call Christus humilis, and, in the same upsurge, worshipping him who is also God, King and Conqueror. [16]
Footnotes                                                                                                            
[1] Gen. 3:10
[2] Gen. 3:11
[3] Mt. 4:4.
[4] Mt. 6:11 This Greek word epiousian is not found anywhere else in the New Testament or Septuagint and suggests something more like "bread for our being" or "super substantial". Origen and St Cyprian held that it referred to the Eucharist.
[5] Markings 1959, 4, 174  (cited in Froehlich, M Political Ethics and The United Nations: Dag Hammarskjöld as Secretary-General, New York: Routledge, 2008, p 71.)
[6] Lk. 18:10-14.
[7] Mt. 26:33.
[8] Lk. 9:46.
[9] Mk. 10:35-37.
[10] Jn. 14:6.
[11] Hammarskjöld, D. Markings, (trans. Leif  Sjöberg and W.H. Auden), New York: Alfred Knopf, 1964, Ballantine Books, 1983, p. 75.
[12] Archimandrite Arsenie (Papacioc) "Eternity Hidden in the Moment" The Orthodox Word. (St. Herman of Alaska: California, 2011) No. 281, p. 289.
[13] Col. 3:3.
[14] Jn. 12:32.
[15] Gillet, L. (The Dove and the Lamb, p. 36.) cited by Thermos, V. in The Forgotten Mystery: The Ecclesial Consequences of Holy Chrismation, Western American Diocese: Sebastian Press, 2016, p. 145]
[16] Fr. Lev Gillet "Meditation on Epiphany",  by Pemptousia Partnership. Posted on OCN 
http://myocn.net/meditation-epiphany-1/  Jan 8, 2018.