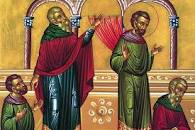 Today we enter the beginning of preparation for Lent called the Triodion which begins the tenth week before Pascha on the Sunday of the Publican and the Pharisee and ends with the Midnight Office on Holy Saturday. Triodion is from the Greek word Τριῴδιον, which means "three odes." The season derives its the name from the Liturgical book which contains the direction for all the services and canons used during this period which are called "triodes" because they involve only three odes.
During the first week of Triodion there is no fasting, even on Wednesdays and Fridays, as we head into the following week where we give up meat and then the next week dairy until after Pascha. This structure of feasting and fasting is one of many indications that in Orthodoxy we do not refuse the satisfactions of life as if fasting, poverty or suffering in and of itself is in any way a good or holy thing. Neither are we content to simply indulge in the pleasures of eating, drinking and making merry as if these satisfactions were the summit of meaning and purpose of human life. Rather we seek to live in accordance with what the Church blesses as part of our responsiveness to Him who is "the Way, the Truth and Life."[1]
Both of these directions, feasting and fasting, and all the other visible elements of Orthodox tradition miss the mark when they eclipse the deeper personal life to which we are called—one in which "we commend ourselves and one another and our whole lives, to Christ our God" in order to receive a blessing. Ours is a Eucharistic life in which we offer ourselves up as the priest does with the Holy Gifts in the anaphora in order to receive the bread and wine back blessed to become the Body and Blood of Christ while remaining bread and wine. The heart of the Liturgy and the deepest meaning and purpose of our lives is to lift up our hearts to God and have them returned to us in the same action which sanctifies and unites us as a part of the the Body of Christ while remaining on earth. "Because there is one bread, we who are many are one body, for we all partake of the one bread."[2]
This is a beautiful and awesome calling which would remain ever out of our reach without God's condescension. The blessed Christian life is ever a response to the initiative of God's creative love. It is not something we are capable of doing on our own. One of my mentors made a simple observation I have never forgotten that goes to the heart of our relationship with with God: "Christ did not come to change humanity but to embrace it." It echoes the words of an earlier theologian of the Church, St. Gregory Nazianzus, referring to the Incarnation. "What has not been assumed has not been healed; it is what is united to his divinity that is saved."[3]
We cannot create ourselves or sanctify ourselves on our own, because this is a function of Communion. Our life is always a response to God's initiative, a dia-Logos or dialogical reciprocity in which, as Fr. Nikolaos Loudovikos has written, elaborating on the theology of St. Maximos the Confessor, God seeks
an answering dia-logos, or dialogue, expressed, on the part of the creature, as a natural will, which is nothing other than the response of the creature to the invitatory attraction that God exerts upon it through his logos/will."[4] The Logos is a personal divine creative proposal that awaits a response" and "every nature   represents a personal call to dialogue between man and God. [5]
The story of the Publican and the Pharisee is a good choice to orient us to the Lenten struggle to enter more deeply into Christ's divine embrace of our humanity. But in order to "hear" this story recorded in the Gospel memory of the Apostles we need to extricate it from the bedrock of clichéd moralism or reductive psychological commentary. Though its language is quite simple, like the Gospels, its meaning points far beyond itself to the Way that leads to encounter with God.
From Adam and Eve, Cain and Abel, to Jacob & Esau, Joseph and his brothers… through the entire history of the people, prophets and kings of Israel, all the stories, history, poetry and prophecy, point in the direction of humanity's response to the initiative of "Our Father in heaven Whose name is Holy," that is to say, our ontological Father who is without beginning and to His Son who is our daily 'bread from heaven' that draws us to eternal life. This is why we are told by Jesus "Call no one on earth your father for your true origin and end is beyond physiological appetites, genetics and family of origin dynamics. It has to do with a hunger and thirst that can only be satisfied by union with Christ. Unless you are born from above, as Jesus tells Nicodemus,[6] we remain merely the sum of some kind of biological determinism and psychological subjectivity that is unable to see the Kingdom of Heaven. Our real life is one of beings-in-Communion through Christ who unites these two otherwise incompatible natures, created and divine, seamlessly in His person. Apart from this we are not fully human.
Philip Sherrard writes that "The human person "is a being whose essential qualities cannot be grasped by the human mind working within the limits of rational, psychological or sensory perception." Person is a being comprehended only through the reciprocal encounter of love with, in and through the Logos. French theologian Jean Claude Larchet emphasizes this when he insists,
Man defined by himself, independently of his relation to God that is inscribed in his very nature, is a non-human-being. There is no such thing as pure human nature; man is man-god, or else he does not exist.[7]
Following St. Maximos the Confessor, Nikolaos Loudovikos elaborates further how Christ's incarnation, death, resurrection and ascension enlarge our understanding of human potential.
Nature and person do not represent two separate realities, but a single reality of being-as-a-dialogical event – a dialogue that is always personal – though it is not always salutary (hence Maximus' claim that our will can go, against nature, i.e. against the divine logos/ will hidden in it – then nature does indeed become a burden of blind necessity). The Incarnation of the Logos is God's unsurpassable proposal for the fulfillment of this dialogue. This is why the patristic tradition, from the Apologists of the first century to Gregory Palamas in the fourteenth century, had no difficulty in attributing the image of God emphatically not only to the person but also to human nature. Nature and person do not represent two separate realities, but a single reality of being-as-a-dialogical event – a dialogue that is always personal." [8]
The history of Israel, God's chosen people, is the history of the human struggle to engage God in dialogue and to comprehend how it is that "the rain falls on the just and unjust alike" as does divine Grace.  There are certain themes that appear over and over in the Gospels.  The elder brother and the younger brother; the Pharisee and the Publican; the two thieves on the cross, all are variations on the same theme pointing us to the difference between self-enhancing performances in contrast to the vulnerability of risking an encounter with God.
Pronouncing judgment, whether outwardly on another or inwardly toward oneself, is a huge barrier to Communion. The very act of comparison indicates a lack of humility. On the one side it allows us to reject others in order to promote one's image of self. On the other side, it separates the judger from one's own aliveness and capacity for Eucharistic encounter out of toxic shame. Both are forms of narcissism.
Evagrius Ponticus, one of St. John Chrysostom and St Gregory Nazianzus's disciples, describes the condition of someone inundated by judgments. He points to vainglory [kenodoxia, literally "empty glory"] as the foundation for judgments which render us hard-hearted as they accumulate. Evagrius says these "prolonged thoughts of vainglory" create in our hearts a condition of  "hard-heartedness" or "total unconcern" (anaisthesia) which easily turns to despondency. [9]  Each vainglorious judgment is like a veil that falls over the heart, almost undetected, until eventually the accumulation blocks out the warmth of Grace. 
You beat your breast, because it has turned to sin, and is not conscious of it. You quote from Scriptures, but [your heart] is thoroughly hardened and does not listen. You charge [your heart] with opprobrium before men, but it does not even notice its shame before your brothers. In short, [your heart] is completely without insight, like a pig that breaks through a fence with its eyes tightly shut."[10]
The Lenten journey begins with the figure of two men who "go up to pray." That is – two men who seek to enter into dia-Logos with God. The Pharisee approaches the relationship with a resume, a portfolio of his religious sacrifices and accomplishments. Like the elder brother in the story of the prodigal who compares his life with his younger brother's and resents the father's mercy toward him, the Pharisee distinguishes himself from other men and from the Publican beside him in order to establish his superiority, his worth. It is difficult to imagine that God will be pleased by this kind of slanderous whisper in his ear. It is not an interest in God born of love, but an interest seeking confirmation of one's achievements–a way to use God as the ultimate audience for one's self-admiration. Truly empty.
Let's not forget that the Pharisee is a religious person. He fasts regularly. Gives alms. Attends worship. But the effect of all these activities, because of his self-preoccupation, is to render him anesthetized to divine Grace for "God resists the proud and gives Grace to the humble"[11] for God is the humblest of all. Comparison with others followed by judgment is a sure indicator of egotism. The Pharisee isn't actually vulnerable to relationship when he was doing all these things. His inner press secretary is busy making a list of everything he does, taking pictures of himself in Church and on his knees, reading Scripture, giving alms—and now he presents all this to God. Yet he is not a strange creature. He is each one of us. 
Vainglory is always a performance allied with pride which makes itself known by way of judgment. This monologue of self-sufficiency goes on unrecognized in our minds on a daily basis. When St. Peter initially refused to allow Jesus to wrap a towel around himself and wash Peter's feet, it was not out of humility, as perhaps Peter thought, but pride. Instead of heart-rending unspeakable gratefulness, Peter was comparing himself with others and even with Jesus and judging who was the greater, just as the Apostles confessed they frequently did with one another.[12] Peter's imagined "humility" was infected with egotism, albeit of a reverse kind; the same kind that earlier allowed him to rebuke Jesus when he tried to teach him about the cross[13] and believe he was helping him out of his love for Jesus. Having only seconds before been affirmed by the Lord for receiving noetic illumination from above in order to be able to recognize him as Christ, Peter now receives a sharp rebuke for thinking about power and privilege in the very same ways as those in the world unenlightened by Grace do.[14] Important people don't wash the feet of people less important! Hmmm.
Though we are each beloved to God and nothing can change that, for His love goes even into hell, it is still necessary to let ourselves "be loved" in order to receive the benefit. When Jesus explained the nature of this kind of love to Peter, "Unless I wash you, you have no part in me," Peter's zeal shifted directions and he responded, "Not my feet only but all of me!"[15]
The Pharisee's problem is that he is has difficulty allowing himself to be loved because he is convinced that he has to do everything himself. The more he does, the more he expects and the more he hates himself and others because he is so isolated from loving relationship. It reminds me of a story of a priest who falls down on his face in the Temple as says "I'm nothing!" The Deacon witnessing his piety is moved to do the same and falls down on his face and says "I'm nothing!"  Standing in the shadows unseen, the janitor is struck by the humility of these two men and he falls down with tears, crying out "God, I'm nothing! Save me!" Witnessing this, the priest and deacon look at one another and one says to the other with cynical disdain, 'Now look who thinks he's nothing!"
The Publican by contrast, like the thief on the cross, realizes his portfolio is inadequate to buy his way out of his predicament. The thief on the right also has a realistic assessment of his condition and responds to the other one on Jesus' left, who is bemoaning his fate, by defending Jesus. "We deserve what we are getting, but this man is innocent." As a beggar throwing himself on the mercy of God, his humility and repentance are a testimony of faith: "Remember me when you come into your Kingdom." Jesus's response is that he will be with him in Paradise that very day.
When the Publican approaches God with vulnerability and asks for mercy, the very action of asking for mercy is a testimony of his love for God and his faith and hope in God's goodness and mercy. Though not unaware of his own sin, he is not comparing himself with anyone else to justify himself before God. He is concerned more with God than with himself. This is the path of allowing ourselves to be loved.
The Pharisee misses the point of fasting and all spiritual struggle, which is a response to being loved and a desire to move more deeply into relationship with God through shedding our self-sufficiency and judgments and becoming vulnerable. Nothing that we do for love is increased by building any kind of portfolio for ourselves based on God's goodness to us as if it were all our own accomplishments. 
The story of the Pharisee and the Publican help us see the simple truth as we begin the journey of Lent moving straight into Jesus' embrace, that all people are sinners; all people are forgiven by God and offered God's mercy. The question before us is whether we truly want to respond in kind to God as He does to us. Will we let ourselves be loved or insist on trying to be perfect first, in order to justify our existence rather than receive and offer it as an act of gratefulness and love. Our lives until the last breath involves the humbling and crushing of our hearts of stone so that a heart of flesh can emerge, able to receive Christ in the very place of the wound we have received by all our failures. 
St. Makarios of Egypt offers a sobering and helpful observation that can help us make the journey of Lent in this way, recognizing that within each of us exists the Pharisee and the Publican. We swing between these on a daily basis.
Some repose in God's grace only for as long as they can keep a hold over themselves and can avoid being vanquished by the sinfulness dwelling within them: for a time, they can pray diligently and are at rest, but then unclean thoughts become active within them and they are taken captive by sin, which in their case clearly coexists with grace. Those who are superficial, and who have not yet grasped the precise degree to which divine energy is active in them, think they have been delivered once and for all from sin; but those who are intelligent and possess discrimination would not deny that, though God's grace dwells within them, they may also be harassed by shameful and unnatural thoughts.

We have often known brethren who have enjoyed such richness of grace that all sinful desire has completely dried up and been extinguished in them for five or six years. Then, just when they thought they had reached a haven and found peace, evil has leapt upon them as though from an ambush so savagely and such hostility that they have been thrown into confusion and doubt. No one, therefore, who possesses understanding would dare to say that once grace dwells in him he is thereafter free from sin. As we said, both grace and sin may be active in the same intellect, even if the gullible and ignorant, after having had some slight spiritual experience, claim that they have already won the battle."[16]   
The battle is indeed won. Christ is victorious. Now the question remains, are we willing to receive the gift of His embrace in the places where we feel we least deserve it. And when we emerge with new life, not to think it is ever our own achievement.
Lord, love the world through me. Let me love the world through You and be loved by you through the world.
__________________________             
[1] Jn 14:6.
[2] I Cor. 10:17.
[3] St. Gregory of Nazianzus, Epistle 101
[4] Loudovikos, N, Hell and Heaven, Nature and Person. C. Yannaras, D. Stăniloae and Maximus the Confessor on Holiness: The Sacrament of Surprise, International Journal of Orthodox Theology 5:1 (2014) urn:nbn:de:0276-2014-1027, p. 17.
[5] Loudovikos, N, "Person Instead of Grace and Dictated Otherness: John Zizioulas' Final Theological Position." P. 687.
[6] Jn. 3:3.
[7] Larchet, Jean Claude, Therapy of Spiritual Illnesses: An Introduction to the Ascetic Tradition of the Orthodox Church (Kilian Sprecher, trans.) Vol. 1, Alexander Press: Montreal, 2012. p. 26
[8] Loudovikos, N, "Person Instead of Grace and Dictated Otherness: John Zizioulas' Final Theological Position." P. 688.
[9] Cited in Bunge, G., Despondency: The Spiritual Teaching of Evagrius Ponticus. Crestwood, NY: St. Vladimir's Seminary Press, 2012., p. 90.
[10] Ibid, p. 91.
[11] I Pet. 5:5.
[12] Mk. 9:33-34.
[13] Mk 8:32
[14] Mk. 8:33.
[15] Jn 13:8
[16] Paraphrases of the Homilies of St. Makarios of Egypt, St. Symeon Metaphrastis, 75, 76 https://books.google.com/books?id=DhRlCgAAQBAJ&printsec=frontcover#v=onepage&q&f=false