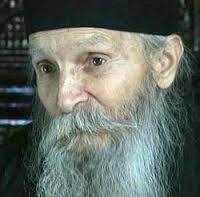 Serbian Elder Thaddeus of Vitovnica said, "[Whoever] has the Kingdom of God within himself will imperceptibly pass it on to others. The atmosphere of heaven will radiate from us even when we keep silence or talk about ordinary things."
When I pray the words of the Lord's prayer, "Thy Kingdom come, Thy will be done…" I am asking for the Kingdom of Heaven to be within me and throughout my life. Of course, the great obstacle preventing this from taking place is me! I say the words easily enough with my lips, but my heart does not fully assent. Why?
Like dry soil hardened from lack of rain and impacted by the repetitive careless footsteps of a wandering attention, unchecked appetites, and unnoticed selfish thoughts and inclinations of daily life, the heart becomes complacent and insensitive. So, I don't pray, I only say.
According to Jesus, things are more difficult than we realize. "The gate is narrow and the way is hard that leads to life, and those who find it are few." (Mt 7:14) In order for words of prayer to become a way of intimate communion, a path of transformation, the soil of the heart has to be softened and turned over by repentance on a daily basis.
For this, the spadework of nepsis is needed. Careful repeated inner observations as I go about my daily life begin to reveal spiritual blindness, deafness to the need and pain of the world, and a strange paralysis that prevents me from overcoming self-will in order to forgive and love those around me. Gradually, out of recognition of true spiritual need, the heart cries out, "Lord Jesus Christ have mercy on me a sinner!" and tears of repentance begin to flow.
When this happens, be of good cheer. Real faith is at work and love is on the horizon. St. Nicodemus of the Holy Mountain in his Handbook of Spiritual Counsel, offers consolation on our predicament: "Those who have been humbled by their passions should take heart. Even if they tumble into every pit, even if they are trapped by every snare, even if they suffer every disease, still after their return to health they become a light to all, they prove to be doctors, beacons, pilots. They teach us the characteristics of every malady and out of their own experience they can rescue those about to lapse."
It is by entering into solidarity with other human beings, having been humbled and spiritually educated by facing our human frailty, that we find Christ in our midst helping us. He is most likely to visit us in the places where our contentment with man-made accomplishments and entertainments give way before the pain of our inability to change the real human condition on our own human power. Composting our failures, God brings forth from the rich humus of humbled and contrite hearts, in His own way and in His own time, the fruits of wisdom, mercy and love, which He offers through us to the world without our left hand even realizing what our right hand is doing (Mt. 6:3).
It is better that way. Then to our dying breath we will not miss the opportunity to join our voices with the thief on the cross, who at the very last moment recognizes the face of God in a forsaken man hanging beside him on a cross and cries out in solidarity with Him and with all the lost and abandoned of this world, "Lord remember me when you come into your kingdom."