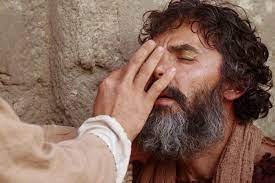 "What do you want me to do for you?" is a simple question we often hear get asked by whoever we consult for the services or assistance they can offer. Then there's the magical version of the question which gets asked in the delightful stories we all know where the person who gets three wishes ends up having to use the last one to get rid of the consequences of the first two. And there is Jack and the Beanstalk and Aladdin's lamp, all marvelous variations on the theme of human desire in every culture.
One of my favorites that I used to read to my children, was of a fisherman who caught a wondrous flounder in the sea and released it on the promise of granting his wish. When the kindly fisherman returned home and asked his wife what she wanted, it was a humble request – some food for their bare table. He returned to the sea and called out "Flounder, flounder, in the sea, quickly quickly come to me…" The fish rose to the surface of the water and granted the man's request.
But not long after, having begun to eat well and enjoy their meals, the couple decided they needed a new kitchen to prepare the meals. After this they wanted a new house. And then a bigger house. And lands and servants. Then they wanted to be king and queen over all the territories of the earth. And then the Pope. Their requests were granted, but the sea was becoming darker and more menacing each time the man approached with another desire.
"What do you want now!" the flounder said with disappointment verging on anger. "O wondrous being, my wife and I would like to be the rulers of all creation. We want to be God!" at which the fish sank slowly to the bottom.  The sea calmed and the fisherman and his wife returned to the poverty from which they had arisen.
"What do you want me to do for you?" are also the same words Jesus asks the brother disciples, James and John, after he had explained to the Apostles that he was going to Jerusalem where he would be rejected and crucified. Their response to this was "Teacher we want you to do for us whatever we ask."[Mk 10:35]. He told them "You don't know what you are asking." Their desire was strong, but they did not comprehend that the Cross is the only way to cleanse desire from its fallen condition and open the way to eternal life.
The Buddha saw desire as the cause of all suffering and sought to eradicate it by desiring nothing.  Christians recognize that in and of itself desire is not the problem. Desire of flesh to become more than dust is part of the original plan of God for Creation to be illumined and brought to fullness of being in eternal Communion with the Holy Trinity. But how could this be? "Let us make man in our Image and likeness." From the beginning God, through the Logos, freely and willingly created and took on the burden of uniting with the flesh made of dust in order to give us the possibility of becoming fully and eternally human. This is not a deterministic process of creation itself, but made possible by freely entering into the Eucharistic reciprocity of his Eternal Body, the Church which is born from the blood and water that flows from the side of the sleeping Jesus, the new Adam, on the Cross. This, the Apostles  only began to understand after the Resurrection and the gift of the Holy Spirit at Pentecost.
Apart from this, as the psalmist reminds, no matter what kinds of experiences we have enjoying our created lives, we never truly forget that 'we are only made of dust. A man, his days resemble grass. As a flower of the fields, so shall he bloom, but let a breeze pass over him and he is gone and never shall he know his place again." [Ps 103:14-17] Human desire, unillumined, can only want more of what it already is and has and so will die and return to dust forever. No amount of satisfaction of desire sanctifies us. We cannot save ourselves in this way. We cannot find eternal life promised by Christ by lengthening the span of our days on the earth or by accumulating more experiences, however satisfying. "But the love of the Lord is from everlasting to everlasting."[Psalm 103:17]
What happens when dust begins to awaken to the reality of its true poverty and need for illumination from above? What happens when the increasing pleasures and happiness of worldly life, always threatened by aging, sickness, loss and death, lose their luster and a finer light begins to shine? What if, like the author of Ecclesiastes, the heart begins to see through the vanity of all life without encountering God and begins to grieve because it desires "Your love which is greater than life itself and my lips shall glorify Thee." [Psalm 63:30]
Blindness and seeing motifs appear frequently in all of the gospels. In the Gospel of Mark and Luke the encounter of Jesus with a blind beggar happens outside Jericho on his way to Jerusalem right after Jesus has told his disciples that he will be rejected and crucified in Jerusalem. They don't get it. In Matthew's account two of them immediately respond by asking to sit on Jesus left and right in the glory they anticipate.
Luke's account doesn't give us the beggar's name, but Mark is very specific about this. Bartimaeus. This is the only time in the Gospels that the name Bartimaeus occurs and when a name is used, [and in Mark's case is even translated] it is likely a significant detail. 
If we derive the meaning from its Hebrew origins, from the verb טמא (tame), [which means to be or become unclean][1] then we have blind Bar-Timaeus, the "son of defilement" or "the unclean one." If we mix the Aramaic 'bar' which means "son of" with a Greek derivation of  τιμαος, then we get 'son of the honorable or valued'.
To make things even more interesting, there is a very close equivalent in Greek to the name Bartimaeus which sounds so close to it that it is quite possible that the Gospel readers would have recognized a kind of double-entendre, especially in light of the significance of the whole event seen retrospectively through the Apostolic testimony.
Βαρυτιμος literally means "heavily burdensome" in the sense of having paid such a significant price to acquire something so valued that it heavily burdens you. The word occurs only once in the Gospels to describe how expensive the precious ointment was that the woman poured over Jesus' head when he was at dinner in Bethany at Simon the Leper's house. [Mt 26:7] Let's suppose that this connection is not lost on the Apostles who tell about this event later, but now illumined through the eyes of an Apostolic faith.
Whether we see Bartimaeus as honorable and valuable or as defiled, we have to answer the larger question of what illumines us sufficiently to determine either. In the Gospel accounts his blindness has relegated him to begging by the roadside between Jericho and Jerusalem where many travelers pass. Remember, we are talking about a village in 33 AD. No cars, no cell towers, no advertisements. No pavement or sidewalks.  No newspapers. Everybody knows each other's business and the goings on of daily life are the stuff of which conversations are made.
In this town all the people knew Bartimaeus. He was a fixture. They provided for him, tolerated him, took him for granted perhaps, but he was not significant. When they were lining the streets to get a glimpse of Jesus the Nazarene and his retinue passing through on the way to Jerusalem, they were irritated by his insistent crying out to Jesus. The ones who were standing in front of him told him shut up. They assumed a privilege that meant what they wanted mattered more than what Bartimaeus wanted. Or maybe in a worldly cultured way, they didn't want this miscreant to "make a scene" to embarrass them. St Ephraim the Syrian wonders if they feared the Pharisees if Jesus were to heal him,[2] as had happened already with the man born blind that created an uproar in Jerusalem [Jn 9:1-39]
The attitude of the onlookers was surely self-concerned. In the Gospel writer's account they are nameless. Invisible really, except for their relationship to Bartimaeus and to Christ. They can't imagine that unlike themselves, it is the blind man's voice that Jesus is going to find most significant. They are probably not even considering that Jesus might stop to engage them. They only want to get a glimpse of him as he passes by, like attending Divine Liturgy passively without engaging from the heart, or taking and using creation and one another without reference to the Giver of All.
They see with the eyes of their heads, but not with the nous, the 'eye of the heart,' embodied and collected within, from which the Jesus prayer arises. Unlike Bartimaeus they have not known the suffering of recognizing their true blindness. Bartimaeus knows the defilement of not measuring up to worldly esteem in the eyes of those around him. He knows the voice tone of pity and condescension; of do-gooding to assuage guilt for being privileged instead of a solidarity that shares that privilege with love and respect. He knows his blindness and need for illumination in part because of his suffering in the world. More importantly, as St .Cyril of Alexandria points out, he must surely have realized that blindness can't be restored by human means, but requires divine power, an authority only God possesses [3] and so he has faith in Christ to act. Christ confirms his faith and once healed, he becomes his disciple and follows him to Jerusalem.
By calling forth this "son of the defilement,"  restoring his eyesight, and confirming his faith, surely in retrospect, the Apostles meant us to recognize him as an icon testifying to what the Apostles only came to understand later. Jesus is Βαρυτιμος, heavily burdened, by love for an unclean, defiled, but highly honored humanity. In Jerusalem he completes the work of creation, offering his own priceless life as a ransom for all of humankind from the defilement of sin and the darkness and captivity of death, through his own death and resurrection.            
A second motif central to this event is the blind man's plaintive cry, "Jesus Son of David have mercy on me!" which is essentially the earliest form of what will later become known as the Jesus Prayer, after the revelation of Christ as "Son of God" replaces "Son of David." It comes forth passionately, desperately, with full awareness of a need so great that it builds in intensity when told to shut up by others around him. This is a type of spiritual warfare, not to allow distractions that try to force themselves upon you, to rob you of your prayer.
Why is it that the blind man is the one who "sees" the possibilities before him and begins to pray as he hears Jesus passing by so much clearer and more profoundly than those around him who can see with their eyes.  The others are not considered defiled or unclean by the world because they live respectable lives. They are not desperate; curious perhaps, ready to be entertained by gawking at a celebrity or controversial figure who is passing by with a small retinue of followers. They do not see the same possibilities unfolding before their eyes as the blind man does with his heart.  
Those surrounding Bartimaeus, who are content and honorable in their own eyes and in the eyes of one another, do not realize they are also defiled. They who can see clearly with their eyes are awaiting the latest event to discuss over dinner, the latest sensation to talk about like the Athenians at the Areopagus [Act 17:15-34]. They do not pray because they have no pressing need other than to observe Jesus without engaging him; to know about him, without encountering him and letting his face look upon them personally.  They are blind to faith.
One second of encountering Christ face to face with St. Silouan changed his life forever and penetrated his heart to the core so that tears flowed in love and prayer for the whole world for the rest of his life. Do we know deeply in ourselves our own uncleanness? Have we realized how far we are from the lives of the saints whose icons align the walls of the Temple in which we worship? Has this been revealed to us through repentance sufficient for us to be able to really pray? 
Has our judgmental worldly gaze begun to be softened by the recognition that too often we do not look at one another with love and forgiveness, but with desire to contrast and compare ourselves in order, to see who is the greatest, as the disciples confessed to Jesus they themselves were doing as they walked with him on the way, again, taking place right after he had earlier told them about his coming rejection and death on the Cross.
We cannot pray with fervor except to the extent that we have begun to discover how in need of Jesus we are.  We cannot pray if we give in to the voices around us that bid us to be quiet and not disturb the status quo of the world that rocks on without realizing its need for Christ. The people lining the side of the road wanted only to be entertained by the spectacle of Christ as he made his way to Jerusalem to assume the "heavy burden" of the Cross which he would endure and conquer death by dying in order to bring joy to those who dwelled in darkness.
The Apostle John gives a vivid account of the Pharisees interrogation of a man born blind whom Jesus healed. They who presumed to see, had no mercy for the one who could not and no joy for his restoration. The Apostle is clear that leaders must first recognize their own blindness first before presuming to see others.
Acquiring spiritual sight involves a diagnosis of sin and a treatment of repentance to see our actual condition. Then watchfulness and response-ability in the face of the reality of our value to God who suffers for love in order to save us. Jesus said, "For judgment I came into this world, that those who do not see may see, and those who see may become blind." Some of the Pharisees near him heard these things, and said to him, "Are we also blind?" Jesus said to them, "If you were blind, you would have no guilt; but now that you say, 'We see,' your guilt remains." Jn 9:39-41
Of all the stories that could be told of Jesus, Mark and Luke found it important to retell and record this event. Matthew tells of a blind man healed and John elaborates the story of a man born blind. Why? Because they are our story; the human story. They are proclamations of the Gospel which begins with repentance, faith and  prayer to Christ, the Son of Man and the Son of God, for mercy and healing which cannot come from man alone.
We are the ones gawking by the roadside content to see the spectacle of Jesus and enjoy it for its entertainment value, but not desperate or foolish enough to jump in and live the Divine Liturgy and our lives as more than pageant. If we come away with nothing but a new experience and continue to grow the hunger for new experiences which cannot be quenched nor does it bring sanctification, we are following the path of the old man and woman and the magic flounder.
We are also the blind sons and daughters of our fallen forefathers and mothers who are in desperate need of help from God for that which we cannot do for ourselves; for a relationship with Christ that is salvific. We are in need of Communion that changes us forever, not simply a picture of ourselves talking to Jesus to put in the scrapbook of our experiences, while we remain the same. 
Our situation is one in which the Apostolic Witness in the Gospels and in the Divine Liturgy testify that Christ calls each one of us by name, and all of us together, having heard the prayer of our hearts, known and unknown, and he asks each of us "What do you want me to do for you?"  He says "I have called you by name. I have burdened myself with the priceless acquisition of your life and I willingly pay this ransom for you whether you want it or not, no strings attached. It is a gift. Now, after living your life in this world, you must choose for yourself that which you have loved most. For even though I offer you myself in love, you cannot receive me except by offering yourselves to me in the same way in return. We do this through bread and wine, my Body and Blood, and through this, offer up and receive back again every good thing as thanksgiving to the Creator.
What will you say when Jesus calls you by name, looks into your eyes and asks you, the same words he asked the apostles James and John, the same words he asked the blind, defiled and honored Bartimaeus. "What do you want me to do for you?" Out of the mouth the heart speaks. 
Lord Jesus Christ, Son of God, have mercy on me!
_________________________________________
[1] Spiros Zodhiates, The Complete Wordstudy Dictionary
[2]Oden, T [ed], Luke: Ancient Christian Commentary on Scripture, Illinois: Intervarsity Press, 2003, p. 288
[3] Ibid, 287