Everybody has their price. Everybody.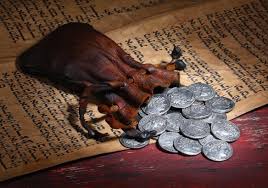 Some forty years ago Bruce Metzger, my New Testament Seminary professor, quietly made a profound statement in class one day, the kind that finds a permanent resting place in the mind because it sheds light on an unfathomable mystery that remains obscure, yet keeps on tugging at the heart's hidden longing. "No one will ever know the degree to which Christ was tempted because we all give in; He never did."
"With reverent awe," St. Sophrony reflects on the mystery of Christ's prayer at Gethsemane. "I wonder to myself, 'What could He, my Lord, have seen that He should pray like that…? His agony certainly had to be more acute than that of the whole of the rest of mankind if He were to be 'Savior of all men.'"[1]
Part of not being able to fathom the depth and intensity of the Lord's agony, which embraces all humanity stretching from the unencompassable expanse of Heaven to the infinitely narrow confinement of Hell, is related to avoiding the pain of realizing the full extent of how easily and frequently we betray Him and its terrible cost. Like Judas, I "traffic in His God-loving favor"[2] toward me by repeatedly offering sin a place in me. It doesn't matter which kind of sin it is.  All sin defiles the heart and weakens the organs of Grace perception.
Through an uncanny anesthesia, I sleep while Christ prays and suffers for me. I avoid the agony of encountering Him, unable in my heart to bear full repentance which is born of loving Him more than the 'self' I have become enamored with. Like Adam and Eve, who fell sick with terminal illness the moment they reached out to partake of life without God's blessing, I do the same. In disobedience, again and again, I afford myself the privilege of determining good and evil on my own apart from relationship with God and divine grace.
Why? Because I like comfort and pleasure and dislike pain and discomfort. And because I need my value to be recognized by men especially when the pain of my sin is so visible before me that God's love is eclipsed by the merciless self-condemnation that slavery to pride gives rise too.
The power of self-deception is made clear for us in the Bridegroom services and the Twelve Gospels leading up to the Crucifixion. "When the woman who had fallen into many sins perceived Your divinity, she assumed the role of a myrrh-bearing woman, and lamenting brought fragrant oils to anoint You before Your burial."[3] "Judas, on the other hand, still exhaling the scent of grace, ungratefully rejected it, and disfigured himself with mire; for he betrayed You for the love of money."[4]
"Judas on the other hand, still exhaling the scent of grace…" conspired against Him. These words leap out from the page at me. Still exhaling the scent of grace… Like Peter after having received the divine revelation of Jesus' identity as the Christ and being with Him for three years, and with the intensity of his human zeal and passionate love for Christ, he still betrayed him.
In my underestimation of my own sinfulness, and lack of saving awareness of its deadly nature, the contrast seems stark between one who identifies as a disciple of Christ, and the Scribes and Pharisees who conspired against Him. When Judas "the betrayer" asks "What will you give me if I deliver Him into your hands?" in arrogant naiveté I except myself from any resemblance to these betrayers. From an imagined distance of quarantine  an inner voice asks innocently, 'How could they do this?' The assumption is that they are unlike me, who of course, would never do that. Where is my awareness that I could and I do?
In this kind of secret, inner, above-it-all thinking, I reveal myself clearly as being exactly like those who testified against themselves with the same kind of arrogant exceptionalism, justifying themselves to Jesus, with the excuse that "If we had lived in the days of our fathers, we would not have taken part with them in shedding the blood of the prophets."[5] Or like those whose lack of care and love for other people in their lives Jesus declares to be a sin against Him, protested by asking, "When did we ever see You sick or in prison and not visit You, or hungry and not feed You?" In other words, "If we had known it was You we would have acted… but these others don't matter enough for us to care about them and act for their sakes."
Peter, John and James, who had witnessed the power of Christ's uncreated divine essence revealed in the Uncreated Light on Mount Tabor as he talked with Elisha and Moses, and heard the Divine Voice of the Father issuing from the Cloud, were yet not able to keep vigil in the Garden of Gethsemane while Jesus prayed. Three times He asked them to keep awake and watch, in order that they not enter into temptation, only to find them again sleeping. "The Spirit is willing, but the flesh is weak."[6]
Nevertheless, a short while later when Jesus' betrayer was as hand, Peter  instantly found himself adrenalized and ready to pull out a sword and fight with his human strength and passion-charged zeal. Only minutes before he had been helpless to remain neptically awake in the face of the mystery unfolding beyond his comprehension. He had not yet learned to distinguish and rely on Christ and the Holy Spirit instead of his human power.
This same propensity to 'sleep' neptically while temptations besiege us over a lifetime, helps render us unable and unwilling to avoid the sin of betrayal. Peter was willing to physically risk his life for Christ yet he was unable to muster the thymos[7] to refrain from denying Him inwardly. 
Like St. Ephraim the Syrian, if we are honest with ourselves we come to realize the terrible fact of the human condition, that in spite of our best intentions "I who am miserable, sin without any temptation; I irritate and embitter my Master."[8]
In this recognition, Dr. Metzger's words take on graver tones and give me pause to question further. Even after having become one Christ's disciples; tasted his merciful love and the Grace of the Holy Spirit, more than once crying bitter tears of repentance, I am still willing to entertain the same question, over and over, which is the gateway to temptation of every kind and constitute's gambling with my fate. "What can I get in the moment that is worth betraying Christ who offers me eternity? What paltry exchange am I willing to make in exchange for my soul? For in offering up Christ to death in this way, it is I myself who am slayed along with Him.
The betrayal of God Whose life is hid with Christ in Jesus is also the betrayal of Man whose life is hid with Christ in God. Jesus' condemnation and death is my own self-condemnation and death through a merciless judgment that evidences contempt for life. In His merciful self-offering, Christ dies for us so that He might cure us of our affliction. He offers Himself for us knowing full well, as He did Peter, of our inability to be faithful to Him. We are human and spiritually but children, far from what we will eventually be when sanctified by Grace. Jesus had to remind his disciples of this, because they were ever in danger of thinking it was all about what they could do on their own as men, not realizing their dependency on Divine Grace in order to become true Persons as God reveals in the glory of the face of Jesus Christ who is "the firstfruits of them who have fallen asleep." [9]
Truly, I say to you, unless you turn and become like children, you will never enter the kingdom of heaven. Whoever humbles himself like this child is the greatest in the kingdom of heaven. And whoever receives one such child in My name receives Me; but whoever causes one of these little ones who believe in me to sin, it would be better for him to have a great millstone fastened around his neck and to be drowned in the depth of the sea.[10]
There is no way to Christ without allowing him to embrace the rejected, not good-enough, left-behind child within myself hidden behind skins and fig leaves of shame. As we find God more and more revealed in the extreme humility of the crucified and risen Christ, we are released from the burden of comparing ourselves and competing with one another. There is no longer a need to present a good boy or good girl resume to God, using Him like everyone else in life, merely as an audience to validate some concoction of self-created worth, while not having a genuine relationship with Him and each other.
Opening in faith, hope and love to His embrace of mercy and compassion, the scales of self-righteousness gradually fall away from our eyes. A stony heart hardened by a lifetime of shame and cowardly attempts at self-justification is crushed and humbled until the oil of mercy begins to flow from His heart of flesh which becomes our own.  
With joyful surprise and gratefulness, in place of lives of spiritual isolation, we discover instead, an Emmaus journey together with hearts set aflame by the glory of an eternal Theophany, ever pondering the mystery of divine love whose depth we can never fully fathom, but Whose Life, protected by His Grace, we will no longer betray.
________________________________
[1] Sophrony St., We Shall See Him As He Is, Essex: St. John the Baptist Stavropegic Monastery, 1988, P. 188
[2] Tuesday Evening Bridegroom Service, eMatins powered by AGES, Troparia,  P. 14.
[3] Tuesday Evening Bridegroom Service, Aposticha, Mode Pl 4, p 18
[4] Tuesday Evening Bridegroom Service, Kathisma 1, p. 9.
[5] Mt. 23:30
[6] Mt. 26:41
[7] Greek, referring to the incensive power or "anger for truth" that in combination with watchfulness, aided by Grace, enables us to stand guard over the heart to protect it from sin.
[8] St. Ephraim the Syrian, A Spiritual Psalter or Reflections on God, Liberty, TN: St. John Krondstant Press, 1997, #109, P 175
[9] I Cor. 15:20
[10] Mt 18:3-6