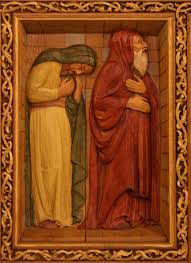 According to the Apostle Luke, Jesus told the parable of the Pharisee and the Publican "to some who trusted firmly[1] in themselves that they were righteous and despised others." [Lk 18:9] The contrast between the two offers some valuable lessons.
The Pharisee's starring role in the parable depends on
Being on display in the theatre of his own mind, admiring his own self-estimation.
'Praying' to himself instead of God. His 'prayer' is a monologue; an inner press-secretary-led private relations campaign, not a dialogue. There is no encounter with the "other" of God. He is alone.
Like the Apostle Peter before his denial, [Remember his words, "Even if all the others deny you, Lord, I never will…] the Pharisee considers himself "unlike other men"— an exception, because of his righteousness in his own eyes.
He justifies his exceptionalist view of his own uniqueness based on his religious exactitude compared to others.
His 'thanksgiving to God' is actually a despising of others. He thinks to himself, "I am not like those who seize other people's possessions, unjust, adulterers, [and then noticing another man in the Temple, he adds] "or like that tax-collector over there" who he probably considers unworthy to even be in the Temple because of his actions, let alone anyone God would listen too.
The Pharisee offers God the crowning achievements of his resume – sacrifices he makes which confirm his place above other men– "I fast twice a week . I tithe,"– evidence of his pious and virtuous life among the religious elite of Jerusalem and his adherence to the Law.
The Pharisee sees no sin in himself. He is unaware of any helplessness he cannot overcome by his zeal and good intentions.  He has not recognized, and perhaps will not tolerate any defeat of his own striving for righteousness. As a result, he has no need for divine help; only admiration and confirmation from the Holy One that he is living in accordance with the Divine law. Jesus' words, "When you have done everything you were supposed to do say I am an unworthy servant." [Lk 17:10] cannot possibly make sense to him because he has not considered his deeper failures.
St Isaac the Syrian writes:
No one can feel his weakness unless even a small temptation, either of body or soul, is allowed to assail him— and he is granted deliverance from it. For then he sees clearly the futility of his own efforts and measures, he sees that the circumspection, abstinence and guarding of his soul, through which he hoped to find security, brought him no profit and that deliverance came independently of it all. Hence he is shown that by himself he is nothing and is saved by God's help alone. [2]
The Pharisee does not enter the Temple "to see Your power and glory because Your love is greater than life itself." There is no doxology in his prayer, no divine Eros evident in his repentance and the longing for the Lord's mercy. He does not realize he has need of anything from God other than approval. In his mind he has succeeded in reaching the goal of righteousness compared with those around him which he finds lacking. All he asks of God is to admire his resume and acknowledge his superiority to all other men, accepting his achievements as an indication of his stature. 
By contrast, Jesus points out, the tax-collector stands off by himself. Being hated by his own people for the fulfillment of his livelihood, collecting taxes for Rome and a share for himself, he has no public recognition to divert his attention, only ignominy. He dares not even lift his eyes up to Heaven because of the shame he feels. He beats his breast with his fists and cries "Lord be gracious to me a sinner." His body hungers for God and his soul thirsts for God's response.
Again we hear this prayer for mercy that the lectionary has placed before us now three weeks in a row as we approach the Lenten journey: Lord Jesus Christ Son of David have mercy on me!" from the Blind Bartimaeus, and again from the Syro-Phoenician woman, "Son of David, have mercy on me." and now from the tax -collector crying out in the Temple, "God be merciful to me the sinner!" This is the prayer that reaches the heart of God because it comes from the heart of man that knows his poverty apart from God. St. Isaac the Syrian says that a man who knows himself in this way of repentance is greater than one who raises the dead [3] and again, "Be contemptible in your own eyes, and you will see the glory of God in yourself."[4]
The Tax collector' prayer is a cry from the heart aimed at God's heart for mercy.
He is not "praying to himself," but yearning for a dialogue with God. Though he dares not raise his eyes to heaven, he seeks an I-Thou encounter with God in hope of obtaining mercy.
The tax-collector considers himself a sinner. He does not compare himself with others, but stands before the Holy One who alone reveals sin by way of His love and beauty and humility.
The tax collector comes to God empty-handed. He brings no resume to justify himself. His eyes are on God. His cry for mercy is a testimony to his faith and hope in God's goodness revealing it as a doxology of praise glorifying of God, not a litany of praise about himself and his accomplishments.
His prayer is born out of a sense of the holiness and infinite goodness of God which reveals his sinfulness, not from judging and despising others.
Whether he tithes or fasts, we don't know. He is praying in the Temple, which suggests some degree of piety. But it doesn't matter, because he looks past his own worldly status to the glory and holiness of God. The tax collector's recognition of his own poverty before the invisible face of God confirm the Psalmist's words, "I desire not sacrifice, but a crushed and humbled heart O Lord, you will not despise. 
Jesus says the tax-collector's prayer was answered and he went back to his home justified before God, while the Pharisee returned home in the emptiness of his own self-estimation not realizing that he had not even prayed in the Temple, but actually defiled it with the uncleanness of his thoughts.   
But wait! Who did Jesus tell this parable for?  To those who trusted in themselves.
From this seemingly simple explanation I begin to discover that the parable is for me. From the moment I read the parable, I begin to compare myself with the Pharisee in the way that the Pharisee did with the publican. I distance myself. I say, "Thank God I am not like the Pharisees who needed to hear this parable, but more like the Tax Collector. I acknowledge my sinfulness. That makes me better than those who don't, right?
When I blithely think of the Pharisee in the parable as unlike me, someone I don't want to be like, I am confirming that I am just like him!  Suddenly, the parable leaps off the page and comes to life.  Now the Pharisee is the tax-collector and I am the Pharisee. By his parable, Jesus reveals to me the subtle and hidden arrogance; the complacency and deep sinfulness which I am oblivious too as I coast along in my worldly ambitions and pursuits, clothed in the same kinds of self-soothing justifications for my specialness that anesthetize my awareness of my hunger and thirst for the Holy things of God as they did the Pharisee.
What is wrong with me? Because like all other men, I too seek to justify myself in my own mind. I too compare myself with others to establish some sort of value independent of Communion with the Living Christ.  Like the Pharisee in the parable, I too seek to identify my own goodness and the ways I follow Christ and live out the Orthodox faith. I find false trust and security in what I am able to "do" – or at least think I do— on my own, without gratefulness for God's abiding hidden presence in all places and filling all things.
I too bring a monologue to the Temple rather than turn to Christ in fear, faith and love, hoping for an encounter with the mercy and love of His Body and Blood, that is not a humanistic self-creation in the theatre of my own mind, but a face to face encounter at the altar of the heart.
The Lord's parable invites to me to see my condition and cease looking for life in the dry dregs of the broken cisterns of vainglory and pride which fail to quench my thirst, and to drink from the Living Fountain of Immortality which pours into the heart of all members of his Body, the Church, who acknowledge Jesus Christ, the Logos, as the Light of humankind and the Savior of the world. 
_____________________________________
[1] According to Kittel's Theological Dictionary of the New Testament, in addition to "trust," the Greek word used here [πεποιθοτας] has the meaning of "relied on" or "had confidence in", "found peace and security" in.
[2] Kadloubovsky and Palmer, (eds) Early Fathers from the Philokalia, London: Faber & Faber, 1976, p. 249.
[3] The Ascetical Homilies of Saint Isaac the Syrian, Revised Second Edition, Holy Transfiguration Monastery, Boston, 2011, p. 461.
[4] St. Isaac the Syrian, The Ascetical Homilies of St. Isaac the Syrian revised second edition. Trans. From the Greek and Syriac, Holy Transfiguration Monastery, Boston, MA, 2011. p. 165.