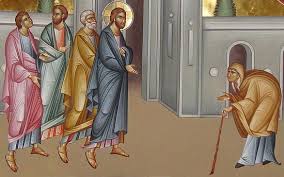 As did the very first Christians, we respond to Christ's life-bearing word born in our hearts with gratefulness and love. We soon discover just as they did, that this joyful beginning involves a life-long maturation in response to a relationship that needs to be continually renewed and will be tested in a variety of ways, building greater response-ability.
From his prison cell, St. Paul, wrote in his pastoral letter to the Church of Ephesus exhorting them to live "a life worthy of your calling."[1] He offered several characteristics of such a life: humility, meekness, and great-heartedness [μακροθυμίας], while forbearing with one another in unity.
The extreme humility of Christ is the foundation of all virtue, engendering this in all who are in communion with Him. Apart from humility, everything is planted on the wrong foundation. St. Silouan was profoundly affected by the Lord's humility after a brief glimpse of Christ who appeared to him by stepping out from His icon. This encounter remained etched in St. Silouan's memory and changed him for the rest of his life, making him keenly aware of the depths of pride that existed in him, in spite of his extraordinary fervor and devotion and bringing him to pray for the world with tears.[2]
The word translated into English as meekness, in contemporary American culture, tends to conjure up some sort of weak and passive acceptance of the status quo or avoidance of conflict that is without any passion; without any fight for love and truth. That is certainly not characteristic of Christ or the Holy Spirit Who in the Book of Revelation admonishes the church, "Because you are neither hot nor cold, but lukewarm I will spit you out of my mouth!"[3]
In the fourth century Evagrius Ponticus explained, "The meek person does not refrain from love, even if it means he must suffer the worst."[4] That's more like it. St. Maximos the Confessor adds that meekness expresses total commitment as evidenced by "courage plus immovability of desire and will." The prophet Joel points to the combination of discernment and intense struggle associated with meekness when he enjoins, 'Let the meek become a warrior against evil thoughts and passions.'[5]
This understanding is further emphasized by St. Paul's use of the word μακροθυμίας [6] which suggests great incensive power or "fire in the belly" to support these virtues. There is no hint of mealy-mouthedness or wimpyness here. Neither is there room for mere reactivity or pugnacious aggression. St. Paul adds to the list "forbearance" or "long-suffering", an essential ingredient, which is a conscious and deliberate willingness to endure afflictions brought on by one's commitment to Christ in the face of inevitable opposition.
In this way, through the blood of the martyrs, the Church of Christ maintains "unity of Spirit in the bond of peace – one Lord, one faith, one baptism, one God and Father of us all Who is above all and in all" supported by the spiritual gifts of Christ measured out uniquely according to each.[7] These words from St. Paul's letter offer the preamble to our Gospel lesson this Sunday taken from the Gospel of Luke 13:10-17.
One Sabbath, as he was accustomed, Jesus was teaching in the synagogue. There he noticed a woman who had been bent over double for 18 years, unable to straighten up. He diagnoses her as having a Spirit of infirmity [asthenia] all these years. Jesus calls her near to him and says, "Woman, you are loosed from your infirmity!" He places his hands on her, completing through his touch, release from the grip of chronic suffering.
What the people in the synagogue are witnesses of in this moment is the essence of worship. Jesus has no need to call out the words "Wisdom, let us attend!" as happens in the Divine Liturgy, because Christ IS Holy Wisdom. What does Holy Wisdom do?  He seeks us out in love and looses us from the bonds of Satan, all the unclean spirits of infirmity that interfere with our motivation and ability to stand upright, attend to the mystery of God's presence in our lives and offer thanksgiving. Instantly after the woman's encounter she "stands aright and begins praising God."[8]
Early in the Divine Liturgy the priest and deacon, carrying the Holy Gospel, exit the door of the Archangel Michael [an archetype of μακροθυμίας!]. They come before the Royal Gates and after blessing the entrance, we hear the words, "Wisdom, stand aright!" The Gospels are then placed on the Holy Altar and we are witnesses of Holy Wisdom Who enters the world, becomes flesh and dwells among us, offering Himself up for our sake, becoming Bread for our eternal Being.
Like this woman, in every Divine Liturgy we hear these wonderful words "Wisdom, stand aright! We hear the invitation of mercy to be loosed from our infirmities, and to enter upon the path of renewal St Paul reminds us of that leads to oneness of mind and heart and action in and through Christ as His Church.
What else can the response to Holy Wisdom be but to stand aright, freed from the infirmity of our passions and the merciless satanic criticism, depravity and worldly attachments that shame us. This is exactly what happens to the woman when she responds to Jesus and instantly, as she is released, she begins to doxologize.
How can anything demonstrate more succinctly and clearly the very essence of worship than what has just occurred? This woman's experience fulfills precisely what teaching on the Sabbath points us too, just like the reading of the Epistle, the Gospels and the Homily offered in the Liturgy prepare us for approaching the encounter with Christ in the Great Mystery of Eucharist which follows.
But the response of the President of the Synagogue misses all this. Why? Because he too, like the woman, has a spirit of infirmity, but of a different kind.  He suffers in a way which has been kept hidden perhaps for the last 18 years. Now in response to the truth of the Lord's wisdom and mercy, the passions infecting his heart begin to be exposed. Satan has bound him through identification with his position of authority and by his zeal for an understanding that is limited to the letter of the law. His pride and presumption of righteousness make him blind to the Author of Life and unable to appreciate compassion, thanksgiving and praise of God. St Maximos the Confessor warns
When a man sticks to the mere letter of Scripture, his nature is governed by the senses alone, in this way proving his soul's attachment to the flesh. For if the letter is not understood in a spiritual way, its significance is restricted to the level of the senses, which do not allow its full meaning to pass over into the intellect.[9]
Speaking to the assembly, the president uses the semblance of instruction to chastise the congregation, offering them a literal teaching from Scripture that is in competition with Holy Wisdom. 
Using Holy Writ as his justification, as Satan attempted with Christ on the Mount of Temptation, the president reminds everyone of familiar words from the Torah: "Six days you shall labor…"[10] where it is permitted to do work. You could come any of these days for healing, but you are out of order to seek this on the Sabbath."
Looking closely at the unfolding drama we notice that this woman had not in fact approached Jesus for healing until he asked her to draw near. The compassion of the Lord caused him to notice her and to render unto her a mercy unasked for. Her response was one of obedience. The president of the synagogue's correction did not apply to her. His target was Jesus and he was using the moment to slyly accuse him of breaking the Sabbath and defying the Lord's commandment. He was rendering mercy guilty and appealing to the members of the synagogue to join him in this indictment.
The president of the synagogue chose not to speak directly to Jesus, but instead to make his point by using the events just witnessed as justification to offer instruction to the witnesses in response to what had just occurred. He was telling them what they should be concerned about. He was zealous for the Law and sure of his understanding of it, yet his approach did not allow him to see good in what Jesus had done or value the renewal of life in the woman transformed before his eyes. The president's obedience all these years had not helped him mature. He was blind to love and to true praise and worship of God. Like Dostoevsky's Grand Inquisitor, his heart was clinched around belief in the ability of man to know and fulfill God's will without mercy and without any help from God. 
After witnessing the woman's response to Jesus, what might the worshippers in the synagogue feel upon hearing the president's words? None of us like public disgrace. We don't want to be exposed before others for not doing what we are supposed to be doing. The president was challenging the people to see Jesus as having departed from the Tradition they all held in honor and from what they were all supposed to be doing. Hearing such words at that very moment would surely put everyone in conflict in their hearts.
In such a situation we might lower our heads, with our bodies contracting in shame. We might feel a need to condemn Jesus in order to stay in one accord with the president of the synagogue where we live. After all, he will remain after Jesus is gone and we don't want conflict with him or his family.  We may be tempted to get relief from the shame and tension inside, by agreeing with the president and denying a deeper awareness that only just before moved us deeply. 
St. Augustine comments on the scene by elaborating on how each of us faces this same question throughout our lives.
The whole human race, like this woman, was bent over and bowed down to the ground….the devil and his angels have bowed the souls of men and women down to the ground. He has bent them forward to be intent on the temporary and earthly things and has stopped them from seeking the things that are above. [11]
Meekness is needed in order to deal with the confusion engendered by the conflicting interpretations. Having been in the presence of Holy Wisdom and witnessed something wonderful and life-giving, the people would be before a crossroads within their conscience.  Comparing what they had witnessed with what the president tells them is important by reminding them of our Holy Tradition, now they must determine what is the right interpretation and how they will respond.
What is sin and what is virtue?  What is my response to injustice and betrayal of Christ? St. Maximos the Confessor says that "Christ is the name given to the essence and subsistence of all that is good and the devil is the depraved state that produces all sins."[12] The choice laid before each of us in one way or another every day is a simple one.
By comparison with what occurred between Jesus and the woman, the president of the synagogue's response is not a liberating word. It is not a word that heals or brings life to anyone. It merely maintains the status quo. Jesus recognizes this depraved state immediately for what it is, as clearly as he had recognized the spirit of infirmity that had bound the woman. He sees that the people are in danger of being bound by the merciless harsh criticism of Satan which is distorting the meaning of the Sabbath so that none of them will be able to stand aright and give praise to God by following the letter of the Law and missing its heart. Their religious tradition is being used to blind them to God's activity in the guise of being faithful to it. 
Confronted by the misery and sedition before him, Jesus becomes a warrior against evil thoughts and passions. He directly addresses the president of the synagogue who has implicated him by scapegoating the woman. "Hypocrite! Don't you untie your oxen and donkey from their manger[13] on the Sabbath and lead them to water?" The answer is obvious to all.
"Ought not this woman, a daughter of Abraham, who had been bound by Satan for 18 years be loosed from her bondage on the Sabbath day" and permitted to give praise to God? His adversaries now experienced a different kind of shame and those who had been shamed because of the blindness and hard-heartedness of the president's "teaching," now felt free to stand aright and rejoice in the glorious things Jesus was doing.
There are two healings here; one of the woman and another of the assembly, both bound by Satan and unable to stand aright and praise God until encountering Christ Himself. Their religion was being taught and used in a way so as to deny Him. As a result the whole assembly was in danger of being bowed to the earth and controlled by shame, unable to stand aright even when Holy Wisdom Himself was in their midst offering unexpected and undeserved mercy. This is the danger of religious tradition coopted by sinful motives that result in the crucifixion of Christ instead of being liberated by receiving Him through it. The devil does not mind us praying, fasting and attending ceremonies, so long as we do it for motivations that he approves of. 
The true Church is salvation from our alienation from life, a respite from counterfeit religion; however, it is only so to the extent that we continually renew the relationship of love from the temptations of complacent attachment to religious form in place of the Living One to Whom it points and in and through Whom it becomes life-giving.
Olivier Clement points to the continual need and purpose of this healing relationship which proves transformative. Life in Christ every day is what Orthodox worship and ascetical life calls us to. "Wisdom, Stand aright!" is heard every Divine Liturgy and constitutes a personal Word of liberation leading to renewal of life and joyful doxology.
The body is called to become a liturgical body by interiorizing the celebration. The fundamental purpose of Orthodox ascesis and spirituality is to become aware of this rising body, sown by baptism inside the body and nourished by the eucharist. For in its structure and its rhythms the human body is constituted to become "the temple of the    Holy Spirit" as Paul says. This involves the two fundamental rhythms of respiration and of blood; and also the "space of the heart," a "space" which is both corporeal and spiritual. [14]
While it is necessary to struggle ascetically to remain vulnerable to a Eucharistic life of Communion, the Scriptures, Liturgy,  Dogma and ascetical practices of Orthodoxy are not to be used as do-it-yourself measures designed to achieve perfection on our own power alone.  This is not only ineffectual, but dangerous to ourselves and others. Rather, they are always a response to the love of Christ drawing us near Him.
Holy Wisdom is in our midst, feeling mercy toward our infirmities and immaturities. Whatever our condition and whatever our fears, let us draw near, stand aright and receive his Body and Blood into our own. No longer as Adam and Eve need we remain bent over in shame, hiding our faces from God and each other, bound by the demands of a merciless perfecter who doubles us over upon ourselves with our hearts burdened by the passions in hopeless despair.
In His mercy, the Lord has come to us and called us near Him. He asks us to stand aright and to receive Him as our shared Life together with joy and everlasting thanksgiving. 
_______________________________________________
[1] Eph. 4:1
[2] Cf. Sophrony, St., St. Silouan the Athonite, Stavropegic Monastery of St. John the Baptist: Essex, England,
[3] Rev. 3:16.
[4] Evagrius Ponticus, cited in Bunge, G. Dragon's Wine and Angel's Bread. Crestwood, NY: St. Vladimir's Seminary Press. 2009, p. 82.
[5] Joel 3:10
[6] Eph 4:2
[7] Eph. 4:5-7
[8] Lk. 13:13
[9] Philokalia, Vol II, Fourth Century on Various Texts, p. 254.
[10] Ex. 20:9
[11] Sermon 162B, cited in Oden, T. (editor) Ancient Christian Commentary on Scripture, Luke, pp. 225-226.
[12] 99. Fourth Century of Various Texts, Philokalia Vol II,  p. 360.
[13]an interesting word this near to the Birth narratives of Christ who is born in the manger with the oxen and donkey
[14] O. Clement, "Life in the Body" The Ecumenical Review. World Council of Churches. p. 135.