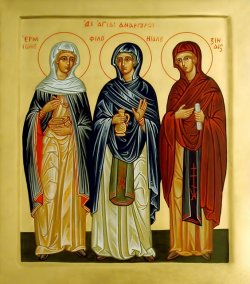 The Orthodox Women in the Healing Ministries celebrates 25th Years (1992 – 2017)!
Orthodox Women in the Healing Ministries was founded in 1992 with the mission of providing support to Orthodox Christian women who work in the medical and healing professions. This includes doctors, nurses, therapists, social workers and the like.
From its inception the founders defined all women as persons who "minister to others," including priest's wives, teachers, students, mothers and the like, and believe they would benefit from our retreat.
Our primary means of providing support to those who minister to others, is by sponsoring an annual three day retreat, which includes time for prayer, rest and reflection, opportunities for networking, and lectures given by outstanding speakers. We are grateful to have Mother Gabriella, Abbess of Holy Dormition Monastery as our spiritual director.
Past speakers have included Archimadrite Roman Braga, Drs. Dan & Jane Hinshaw, Fr. Dusan Koprivica, Archbishop Lazar Puhalo, Corinna Delkeskamp-Hayes, Fr. Thomas Hopko, Fr. Hans Jacobse,  Maria Molett, M.A., and Dr. Albert Rossi, Frederica Mathews-Green, Dr. Timothy Patitsis, Fr. Silviu Bunta, PhD.
After many requests from men to attend our yearly retreat, we began welcoming men to the Saturday lectures since 2005. The Friday evening lecture, is for "Women Only" and will focus on the medical and healing professions. The two Saturday lectures have been open to both women and men since 2005.
This year's speaker will be Fr. Dn. Stephen Muse, PhD, LPC, LMFT.  For more information or to register for the conference go to OWHM.org
Note: Ancient Faith Radio records the OWHM retreat lectures every year.  They have been recording them since 2008 and can be heard on www.ancientfaith.com. 
Ancient Faith Radio Broadcast of these talks can be found at 
www.ancientfaith.com/specials/2017_women_in_healing_ministries_conference
Edited from OWHM website.