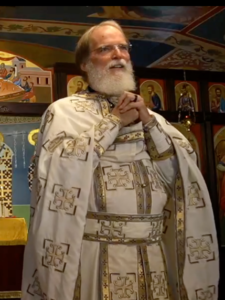 Fr. Stephen Muse, PhD
Father Stephen is a bi-vocational priest, serving the Holy Transfiguration Orthodox Church Community while working as a pastoral psychotherapist and marriage and family therapist at the Pastoral Institute, Inc. where he currently directs Clergy-in-Kairos, a week long intensive therapy and discernment program for clergy (and their spouses). He served as director of Counselor Training for 20 years and trained and supervised military chaplains, working extensively with persons and families dealing with combat trauma and related difficulties. He is a Board Certified Chaplain, CPE Supervisor and holds a joint appointment as clinical Professor in the Departments of Psychiatry and Behavioral Science and Bioethics and Medical Humanities at Mercer University Medical School and serves on the Clinical Competency Committee and as PT faculty for the St. Francis Hospital Psychiatry Residency Program. He is a gifted speaker, workshop leader and author of numerous books which can be found HERE.  His work has been translated into Romanian, Greek, Swedish, Serbian and Russian.  You can find some of his talks on Ancient Faith Radio HERE and read Fr. Stephen's Blog HERE.
Prior to to his entry into the Greek Orthodox Church in 1993, he pastored a Presbyterian congregation for 11 years and helped begin an out-patient psychiatric clinic in Delta, PA. He served on the Assembly of Canonical Bishops Pastoral Praxis Committee, as an advisor to the OCA task force on Spiritual Abuse and as president of the Orthodox Christian Association of Medicine, Psychology and Religion and now serves on the Advisory Board. He was ordained to the diaconate by Met. Gregory of Nyssa in 2014 on the Sunday of St. Gregory Palamas and to the Holy Priesthood in 2021 on the feast day of St. Nicholas of Myra [old calendar] and Sts. Boniface and Aglais [new calendar]. He and his wife Presvytera Ioanna have 4 children, 5 grandchildren, 12 god children and have made their home in Columbus, GA since 1992.