Food Pantry
On the second Saturday of every month church volunteers serve 100+ families in our area who are in need of food assistance. Tom Kubik is the coordinator of the Food Pantry outreach and always grateful for volunteers.
Wednesday Night Study Group
On Wednesday evenings from 7:00 – 8:00 p.m, a hybrid in-person and virtual group meets for prayer and study, led by Fr. Stephen. Various books on Orthodox spiritual life are discussed. We will begin a new book Thinking Orthodox: Understanding and Acquiring the orthodox Christian Mind, by Eugenia Constananiou, PhD on January 11th. Contact Fr. Stephen [Smuse52@gmail.com] if you are interested in attending. 
Catechumens
If you are interested in preparing to join the Orthodox Church, contact Fr. Stephen
Book Store
Our Book Store, located just inside the Fellowship Hall, is open before and after services, and upon request. We offer a lovely selection of books, icons, and items to support your Orthodox life. We are always open to suggestions and special requests as well. Carlie Frederick is our bookstore manager and glad to assist anyone with special requests.
Library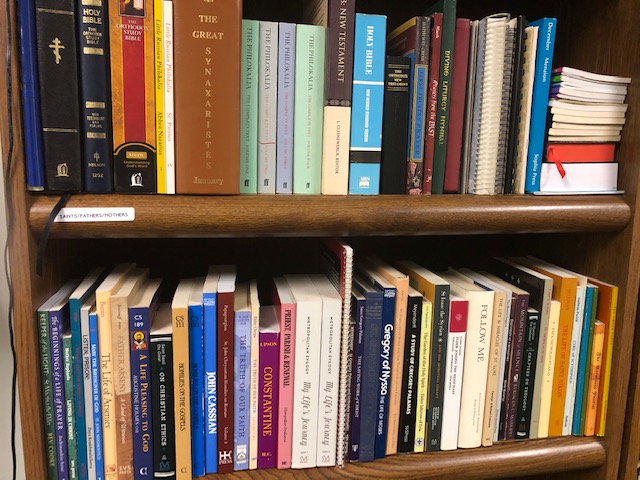 We have a small but growing library, located in the church office.  The collection has recently been digitally cataloged and the catalog can be accessed here. Please contact the librarian for instructions on how to place a hold on books. 
Each One Care for One 
"[Christians] have an obligation, whatever they do, to live with love and joy among themselves. The one working should say for the one praying: 'The treasure my brother acquires through prayer is also mine, because it is a common treasure.' And the one praying should say for the one reading: 'Whatever benefit he derives from reading becomes my gain also.' And the one working should say: 'The service I render is for the common good…' Neither should the one praying judge the one working for not praying, nor should the one working judge the one praying for  being idle while I am working; nor again should anyone providing a service judge the others. Rather, everyone should do what they do for the glory of God… One thing is needful, for each person to have the treasure in his soul and life that is Christ present always in his mind. While working or praying or studying, one must have that possession that is not lost – the Holy Spirit." —St. Makarios of Egypt
"Each One Care for One" is a way to bring St. Makarios' wisdom to life by partnering together to offer care to our Church community in ways that bring you joy. Click on the hyperlink for a list of ways you can take part:  https://docs.google.com/document/d/188Nl4OYNrPl6abcEPXK-IyaIoexZDIWH4T-KY3M3OmI/edit?usp=sharing