Food Pantry
On the second Saturday of every month, a group of volunteers, led by Tom & Carol Kubik and Peter & Maureen Byrd, open the doors of the fellowship hall to dozens of families in our area who are in need of food assistance.  Breakfast and lots of smiles are the order of the day.

Wednesday Night Study Group
On Wednesday evenings from 6:30 – 7:30 p.m, a group meets in the Fellowship Hall, led by Fr. Deacon Dr. Stephen Muse. Various books on Orthodox Spirituality are discussed.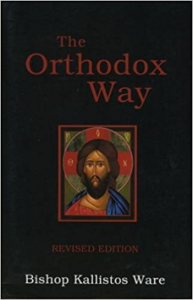 The group will  begin a new book, The Orthodox Way, by Met. Kallistos Ware on Aug. 2nd. All are welcome. 
Father Deacon Stephen directs the Counselor Training Program at the Pastoral Institute in Columbus and Clergy-in-Kairos, a weeklong intensive outpatient program for clergy (and their spouses). He is a gifted speaker, retreat leader and the author of several books, including most recently, Be Yourself! (Amim's Great Discovery) published by St. Tikhon's Monastery Press.