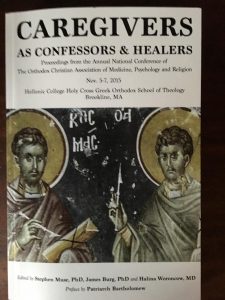 The Orthodox Christian Association of Psychology and Religion (OCAMPR) for the past quarter of a century, has been a professional association and fellowship of theologians, health professionals and psychotherapists who, along with their specialities, share a common Orthodox Christian faith. From its inception, OCAMPR has recognized that clinical excellence is fulfilled in the service of humanity and its azimuth is Jesus Christ, the Good Physician of our souls and bodies. Moreover, among its membership there is a deep appreciation for the vital role of relationality in rendering the fruits of our respective scientific endeavors potent through integration and creative synergy, brought about by sharing worship, fellowship and discussion.  (from the introduction)
OCAMPR has experienced something of a renaissance of interest in recent years and its membership is growing with the help of a very active and creative leadership. This new volume, edited by Stephen Muse, PhD, James Burg, PhD, and Helena Woroncow, MD, recently published by Eighth Day Institute, 288 pp. with a preface by His All-Holiness Ecumenical Patriarch Bartholomew, includes 20 chapters by physicians, psychiatrists, clergy, therapists and health professionals from the U.S., Greece, Canada and Romania, offering a variety of perspectives on the theme. It is edited from talks given at the 2015 National conference of the same title.   
Those interested in purchasing a copy of the book can pay electronically at http://ocampr.org (Select Donate Now, and then enter $19.95,) Or you can pay by check made out to OCAMPR and mail to: Melinda Johnson, OCAMPR Treasurer, 13956 Shalestone Dr., Clifton, VA 20124.  Be sure to include your mailing address if it is different than the address on the check. 
The book should be available on Amazon.com in the near future.  You can further explore OCAMPR at ocamprinfo@gmail.com and find out about the next national conference in 2017, as well as links to talks from this past year's conference on the theme of "Pain and Suffering" which were audiotaped by Ancient Faith Radio, by going to www.ocampr.org.