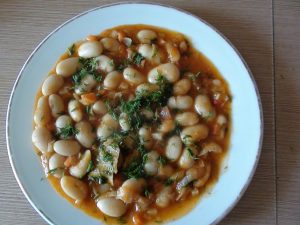 At the monasteries during meals, a reading from the Holy Fathers is typically offered by one of the monks.  In our workaday world, for those who eat breakfast or take lunch alone, it is easy to bring along some spiritual reading and nibble slowly while eating.  I have found that it is not only spiritually refreshing, encouraging and uplifting to have converse with experienced persons on the way of salvation, but it is a necessity to keep me grounded in reality in the midst of so many other competing forms of presumed "in-formation" which do not help my formation in Christ at all.  An Abba-tizer, by contrast, is helpful in the journey toward formation as a truly human being.
Here's an Abba-tizer from the writings of St. Abba Dorotheos who accompanied me this morning with my coffee. St. Abba Dorotheos is a good Father to read for those not yet familiar with the writings of the Philokalia, but would like to begin reading something instructive for the struggle for spiritual sobriety.
This is from his "Directions on Spiritual Training" where he elaborates on the radical idea that "the chief cause of being troubled is that we do not blame ourselves." It is a practical breakdown of the common progress toward irritation and unhappiness we often face among our co-workers in the workplace that is largely a result of not learning to observe how the source of the problem happens in ourselves and begin to cultivate the garden of the heart in prayer, pulling out the weeds when they are small, before they have become full-grown passions that rob us, and those around us, of joy.  
+ + +
52. Troubles frequently arise and unpleasantnesses occur among the brethren, but as a rule they hasten to settle these differences and are pacified. However, it may sometimes happen that, having bowed and made peace, a monk continues to nurse a feeling of hurt against his brother and to cling to thoughts against him. This is resentment; and much care is needed not to become hardened in it and perish. A [person]  who has at once made peace with another, after being irritated, has cured his anger, but has done nothing against resentment, and so he continues to be sore with his brother. For resentment is one thing, anger another, irritation another and being disturbed yet another. So that you may understand it more clearly, I will give you an example. To kindle a fire one takes first a small piece of charcoal: this is the word of the brother who offended you. If you can bear it, you extinguish the charcoal. But if you think, 'Why did he say that? If that's the case, then I too shall say this and that to him. If he did not wish to offend me, he would not have said it. So I shall certainly offend him in return.' There you are, putting on some kindling wood, or something else that one puts on to start a fire, and you've produced smoke, which is disturbance. Disturbance is the movement and stirring up of thoughts, which arouse and irritate the heart And irritation is a vengeful uprising against the man who offended you, which gives rise to presumptuousness. St Mark said 'Malice, fed by thoughts, irritates the heart; but prayer kills it.' Had you borne with that small word of your brother's, you would have extinguished the little piece of charcoal before it had produced disturbance. Yet, if you wish, you can easily extinguish even disturbance, while it is still fresh, by silence, prayer, even by a mere bow from the heart. But if you continue to fume, that is, to irritate and excite the heart by thoughts 'Why did he…so shall I too…' this will inflame your heart and give birth to the inflammation of irritation. If you so wish, you can extinguish even irritation before it leads to anger. But if you continue to disturb and irritate yourself, you will be like a man who adds fuel to the fire and so produces flames, which is anger. And anger, if it lingers, turns to resentment, from which a man will not be freed until he sheds blood (sweat and labor over himself.)…. 53. But if you had blamed yourself from the first, had endured with patience the word of your brothers, and had not wised to revenge yourself on him by answering his one word with two, or five and so return evil for evil, you would have been free of all these ills. 
+ + +
Blaming ourselves… When God came looking for communion with Adam and Eve in the Garden, (Gen. 3ff) and Adam hid, God asked what had happened. Did it have something to do with eating food without a blessing that they had been warned about?  Rather than tell the truth, Adam blamed Eve. Eve blamed the serpent.  God brought peace by taking the blame. The "Tree of Life" that restores peace to those who partake of it is the Cross of Jesus Christ. Those who eat of this tree, shall live forever in peace. The price of admission, is admitting that we are not God.  St. Abba Dorotheos' practical advice is a reminder to do just that, every day. It is sharing the gift of gratefulness to God, not only with ourselves, but with everyone else around us  without ever saying a single word of blame to anyone other than ourselves.   
Forgive me!
Fr. Stephen's Muse
"